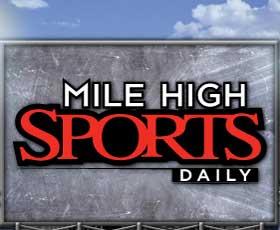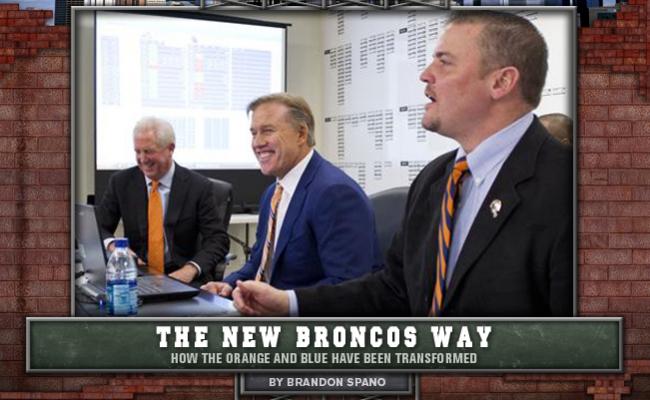 Until last year, the "Broncos Way" was whatever the current head coach wanted it to be. And until the 2000s, that way was a winning way.
But like most things, the game of football became more complex and so did the top league in which it was played. It started to become obvious that one man could not do it all and that only a collective group effort was going to be able to create a contender in the competitive and hostile environment of the NFL.
Regardless of the titles that were handed out throughout the Broncos organization, Mike Shanahan was the coach, GM and whatever else he could get his hands on. In all fairness, Shanahan mastered all of these tasks and dominated with the teams that he coached and created throughout a good portion of his time in Denver. Broncos fans will always have a soft spot for Mike Shanahan because of the two Super Bowl wins and the coaching genius that he displayed for years here.
But just like in life, if you never adapt, you will eventually find yourself in a situation without the means to succeed. That is exactly what happened. As the NFL crossed the Bering Strait into the 21st Century on its way to a newfound land with an opportunity for all teams to survive, the science was refined and the room for error became minuscule.
Unfortunately for Shanahan, old methods let him down. He spent big money on guys like Niko Koutouvides, Boss Bailey, Simeon Rice, Daryl Gardener and Dale Carter. All guys that were either past their prime or not a good fit for the scheme that the Broncos were running. He also spent first-round picks on guys like Willie Middlebrooks, Ashley Lelie and Jarvis Moss.
Not only did this give the Broncos a disadvantage on the field, but it cost the organization millions of dollars. As one media member told me that was covering the team in those years, "It was almost as if Shanahan was throwing darts blindfolded."
Even with the mismanagement that was taking place, the Broncos were able to still compete under the great coach's guidance. Like I have said many times before, Shanahan the GM got fired, not Shanahan the coach. With that said, competing and going to Super Bowls are two very different things.
Other teams around the league started putting together complete staffs that functioned like well-oiled machines. It was now normal to see general managers that worked alongside head coaches, operations presidents and vice presidents, cap-ologists and player-personnel executives.
The Broncos had a few guys with those titles, but they all answered to Shanahan. Even highly regarded GMs like Ted Sundquist, who made some great moves as Broncos GM, still needed Shanahan's approval before pulling the trigger. It's almost unarguable that Shanahan's decisions became even worse after Sundquist left in 2007. The bottom line is that the meeting of the minds was clearly never there.
Eventually after too many years of mediocrity, Pat Bowlen had to make the decision to move forward without Shanahan – a man who, at least based on the last press conference, meant a lot to him on a personal level. I believe that Bowlen wanted to win and felt like he had no other choice. Shanahan's way wasn't working anymore and it was time for change.
Along comes Josh McDaniels (this part should be quick.) Although McDaniels had just came from an organization in New England where head coach Bill Belichick leaned on GM Scott Pioli and scouting director Thomas Dimitroff to help build the Patriots empire, McDaniels did the exact opposite and decided to run a micromanaged, one-man show.
The results were actually worse than Shanahan. McDaniels obviously had nowhere near the coaching expertise that Shanahan did and because of that, he couldn't make up for his mismanagement of the team in the same way that Shanahan would have been able to. We all know the end of that story. McDaniels didn't even get through his second season as head coach before Bowlen was forced to look for another man to turn the Broncos into the winning juggernaut that he had grown used to in the late '90s.
Here we are today. A team and a front office that looks nothing like the one that I just described. Now, the Broncos are a little more like the well-oiled machine that I mentioned. This team has a successful businessman that happens to be a Hall of Fame quarterback and the son of a scout as its vice president of football operations.
John Elway has built a foundation with the same design as many winning teams. The first piece was a real GM. Brian Xanders is known throughout the league as a terrific evaluator of talent and fills that role nicely. Under McDaniels, he was not able to utilize the skills that he refined throughout almost two decades of NFL experience. He was not given the same opportunity as other GMs to build a team around the philosophies that he learned working with some of footballs all time coaches, managers and presidents.
Some uneducated fans scoff at Xanders as a GM. But people who know the real story know about a man that played for Bobby Bowden at Florida State for four years and went on to work with the legendary Dan Reeves for years in the NFL (a guy that Broncos fans should know well after three Super Bowl appearances).
People who know the real story about Xanders also know how he started from the bottom in Atlanta and ended up on the defensive coaching staff of the 1998 Falcons team that went to the Super Bowl. He went on to work with front office gurus like Thomas Dimitroff and Rich McKay, among many others.
This new foundation has allowed Xanders the ability to focus on what he knows best, which is football players. From the pro personnel department of analyzing future free agents to the college scouting department that leads up to the draft board, Xanders has his hand in all of it. Your Broncos have a football savvy GM.
To complement that, the Broncos had to have a football coach that was all about coaching football. It sounds funny at first, until you think about the last two coaches. Okay, not funny anymore.
I don't have to tell you the John Fox's story; if you're reading this, then you probably already know it. What I will tell you is that Fox wants to focus on his football players and coaching staff during the football season. And like all successful teams, work closely during the offseason with the GM on constructing a team full of players that fit. This is probably the No. 1 thing that the team lacked in previous years – the relationship between the GM and coach. Again, like all winning teams, the Broncos have that now.
The last piece to the puzzle was added recently – contract and cap guru Mike Sullivan, who started out with super agent Leigh Steinberg 25 years ago and has established a reputation as an aggressive negotiator. The Broncos know that in order to obtain a high percentage of quality players and create maximum depth at each position, they're going to have to be able to negotiate well and squeeze as much as they can out of the cap. Sullivan is the guy to get that done.
For the first time in a long time, your Denver Broncos now have a complete, full-functioning front office. With a serious VP, a GM with the freedom to make decisions, a coach whose No. 1 priority is actually coaching, and a bulldog negotiator, this Broncos organization is looking more and more like they are serious about building a winner. There are obviously many other people involved, but those are the front four guys that turn this into the NFL's modern business structure.
Last year at this time, Elway was getting his feet wet, Fox was figuring out his new team, and Xanders was trying to stabilize all of it, all during a lockout. This will be the first traditional offseason that you will get to see how a real system works after years of listening to a one-man band. If the math proves correct, it should add up to better drafts, better fits in free agency, and a well run football team financially and competitively.
You can hear Brandon Spano every weeknight from 8p-10p on Mile High Sports Radio (AM 1510 | FM 93.7). You can follow his ridiculously overactive Twitter account at @BrandonSpano.
***
Want more Mile High Sports? Check out D-Mac's blog at milehighsports.com. Today, D-Mac takes us inside the Perrish Cox trial.

Print This Post