Berthoud 28, Northridge 20
By Michael Hicks
Berthoud Recorder
A week earlier, Berthoud's defense was exploited for 412 yards — 306 on the ground — in a loss at Windsor. On Friday night, when Kent Flynn muffed the opening kickoff of the second half and Northridge's Jeremy English recovered at the Berthoud 23-yard line, the Spartans defense was challenged again.
This time, Berthoud wasn't going to give in.
Northridge had four plays from inside the Berthoud 7 with the Spartans hanging on to a one-point lead. The Grizzlies were denied and Berthoud took the ensuing drive 92 yards on 10 plays, finished off by a Flynn 1-yard run and two-point conversion on its way to a 28-20 homecoming victory at Max Marr Field.
"Our kids came together in practice this week. They learned from what happened," Berthoud head coach Dan McGinn said. "We've got a lot of work to do still and they know. We came out and had a really strong week of practice, even in the rain on Wednesday. We had a really good practice. When you see that kind of practice it brings everybody together a little bit. This was a good team win for us."
But nothing might have been bigger than that red-zone stop to open the second half.
"It's huge. That's the one thing I talked about [after the game]. What a team effort," McGinn said. "With the defense to start with their backs against the wall and to get a stop, a big, big stop here and then for our offense to go all the way down and score. That was huge."
While Flynn and running back teammate Greg Glasser each ran for more than 100 yards and two touchdowns, it was the Spartans defense that time and time again made a stand against the visiting Grizzlies and starting quarterback Colton Taylor.
On Northridge's opening drive, the Grizzlies faked a punt but Taylor, playing as the up man, threw an incomplete pass down the right sideline. The stop gave BHS (2-2, 2-1 3A Tri-Valley Conference) the ball at the Northridge 36 and four plays later Glasser was in the end zone for a 7-0 lead.
Northridge's next possession was thwarted when Taylor hit Matt Ritchie with a 13-yard completion but Ritchie fumbled and safety Marcus Mathiesen recovered the ball at the Berthoud 44. That was just the start of Berthoud's veteran defense putting pressure on Northridge's offense.
"The linebackers and defensive ends did a good job keeping outside contain so the nose and myself could get in there and make a play on the quarterback," defensive tackle Taylor Williams said.
The Grizzlies (2-2, 2-1) cut the lead to one when Taylor and Ben Cary connected on an 18-yard score early in the second quarter, but this time Berthoud's offense came calling. Flynn took a handoff on the series first play and dashed 55 yards for a 13-6 lead.
Though Taylor threw for 205 yards, he was far from perfect. Sophomore defensive back Greg Hutchins made sure of that. Hutchins, playing man-to-man coverage at left cornerback, picked off Taylor for the first time late in the first half to preserve Berthoud's lead.
"It was all about the defense. Our safeties covered everybody else. I just had to step up and make a play," Hutchins said.
Northridge reduced its deficit to 13-12 right before halftime, but it could never take the lead, even after recovering the opening kickoff of the second half.
Berthoud increased its lead to 28-12 early in the fourth quarter on a 5-yard Glasser run. The score was setup by another Northridge turnover, this on a fumble recovery by homecoming king Pat Conrey after Northridge's Jose Pinon mishandled a Colton Moore punt.
Though Taylor's TD run late in the fourth quarter pulled Northridge within eight, his second interception of the game, again picked off by Hutchins on an overthrow with 1:12 remaining, sealed the Spartans victory.
---
BERTHOUD 28, NORTHRIDGE 20
NORTHRIDGE 0 12 0 8–20
BERTHOUD 7 6 8 7–28
B — Greg Glasser 2 run (Colton Moore kick)
N — Ben Cary 18 pass from Colton Taylor (pass failed)
B — Kent Flynn 55 run (kick failed)
N — Cris Perez 4 run (run failed)
B — Flynn 1 run (Flynn run)
B — Glasser 5 run (Moore kick)
N — Taylor 17 run (Taylor run)
RUSHING: Northridge: Keith Jones 17-53; Colton Taylor 19-107; Cris Perez 3-13. TOTALS: 39-173. Berthoud: Kent Flynn 19-107; Greg Glasser 20-116; Zach Ruebesam 15-59. TOTALS: 54-282.
PASSING: Northridge: Taylor 15-29-2, 205; Matt Ritchie 0-1-0, 0; Berthoud: Ruebesam 2-5-0, 47
RECEIVING: Northridge: Ritchie 5-79; Jones 2-5; Ben Cary 6-105; Conner Ervin 2-16. TOTALS: 15-205; Berthoud: Flynn 2-47
TOTAL OFFENSE: Northridge 378; Berthoud 329
FIRST DOWNS: Northridge 21; Berthoud 16
TURNOVERS: Northridge 4; Berthoud 2
PENALTIES: Northridge 7-72; Berthoud 6-32
PUNTS: Northridge — Zach Baxter 3-83; Berthoud — Colton Moore 6-196
---
GAME PREVIEW
Who: Berthoud (2-2, 2-1 3A Tri-Valley Conference) at Roosevelt (2-2, 2-1)
When: Friday, 7 p.m.
Where: Roosevelt High School, Johnstown
Directions: From Berthoud, take I-25 North to Exit 22 (CO-60 E/Johnstown/Milliken). Turn right onto CR-48 and travel 3.4 miles — the road will change names to W. South 1st St./CO-60. Turn left onto S. Fremont Ave. and right onto N. 2nd St. The school is at 616 N. 2nd St.
Tickets: $5
Last meeting: Sept. 26, 2008, Berthoud 21, Roosevelt 16. Bryce Munoz scored on a 12-yard run in the final four minutes as the Spartans avoided a homecoming loss. Roosevelt had rallied from a 14-0 deficit with 16 unanswered points, but Nick Henderson's interception set up BHS at the Rough Riders' 19 and three plays later Munoz scored the game-winning TD.
Game notes: Greg Glasser (116 yards) and Kent Flynn (107) rushed for two touchdowns each and Berthoud forced four turnovers in its win over Northridge last Friday. … Zach Ruebesam only completed two passes, one of which was called back due to penalty, as the Spartans relied on a heavy running game against the Grizzlies. … Berthoud is 0-2 this season on the road. … Roosevelt, coming off a 20-8 win at Frederick last week, is led by running back Jeff Kielian and linebacker Brandyn Hernandez. … Roosevelt has averaged 26 points per game in its last three outings. … Both Berthoud and Roosevelt were playoff teams in 2008 and both lost to Glenwood Springs. … This is one of only four home games for the Rough Riders. … Friday's game will be Roosevelt's homecoming.
---
TRI-VALLEY CONFERENCE FOOTBALL STANDINGS
CONFERENCE OVERALL PF PA
Mountain View 3-0 4-0 140 49
Windsor 3-0 4-0 153 51
Silver Creek 2-1 3-1 67 67
Berthoud 2-1 2-2 109 75
Northridge 2-1 2-2 95 72
Roosevelt 2-1 2-2 85 48
Fort Morgan 1-2 2-2 95 85
Frederick 0-3 1-3 25 93
Fort Lupton 0-3 0-4 12 161
Sterling 0-3 0-4 14 113
LAST WEEK'S RESULTS
Silver Creek 14, Fort Morgan 13
Mountain View 21, Sterling 7
Berthoud 28, Northridge 20
Windsor 44, Fort Lupton 0
Roosevelt 20, Frederick 8
THUSDAY'S GAME
Windsor at Northridge, 7 p.m.
FRIDAY'S GAME
Frederick at Fort Morgan, 7 p.m.
Mountain View at Silver Creek, 7 p.m.
Berthoud at Roosevelt, 7 p.m.
Fort Lupton at Sterling, 7 p.m.
News Image: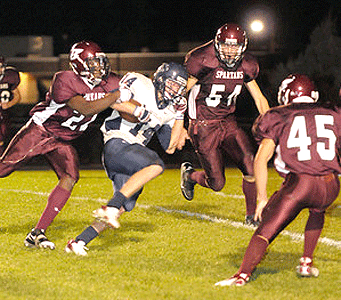 Category Lead:
Category Lead Story
Home Lead:
Home Page Primary Featured Story

Print This Post