Theodore Seuss Geisel, aka Dr. Seuss, was born on March 2, 1904 and the numerous children's books he wrote remain favorites to this day.
Schools everywhere celebrated the day with Dr. Seuss readings and costuming. Wearing their handmade hats, the children of Wendy Bennington's Kindergarten class at Ivy Stockwell Elementary listen attentively as principal Rhonda Richer reads "Green Eggs and Ham."
The children followed the reading by eating their own green eggs and ham.
News Image: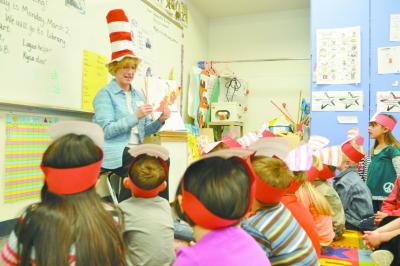 <p><span style="font-size: xx-small;"><span style="font-family: times new roman,times;">.</span></span></p>
Long Description:
<p><span style="font-size: small;"><span style="font-family: times new roman,times;">Dortha McCullum, longtime Berthoud Elementary librarian, reads "The Lorax" to a fifth-grade class. McCullum has been wearing the well-known striped hat from the beloved Seuss book, &ldquo;Cat in the Hat,&rdquo; and often includes matching striped slippers, each year for close to twenty years to celebrate the late author&rsquo;s birthday.<br /></span></span></p>
Category Lead:
Category Primary Featured Story
Home Lead:
Home Page Primary Featured Story

Print This Post