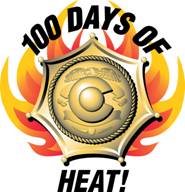 '100 Days of Heat' DUI Crackdown Begins Friday Cops Turn Up the Heat on Impaired Drivers Memorial Day Weekend through Labor Day
Denver – Drivers beware over the next 100 days. The Colorado State Patrol and law enforcement agencies across the state are beginning an intensive DUI crackdown that starts Memorial Weekend and continues through Labor Day. The goal of the "100 Days of Heat" campaign is to save lives by deterring people from driving under the influence of drugs or alcohol, and arresting those who do.
In 2009, 191 people were killed in alcohol-related fatalities in the state, representing 41 percent of all traffic fatalities in Colorado. Nearly one-third of the alcohol-related deaths last year occurred between Memorial Weekend and Labor Day. Seventy-two percent of those killed were male; half were young people age 17 to 34, and more than one-third involved drugs in addition to the alcohol. Denver County had the highest number of alcohol-related fatalities with 24, followed by Arapahoe County and El Paso County with 16 each, Weld County with 15, and Larimer County with 14.
"One of the most serious public safety issues we face in Colorado is the crime of impaired driving," said Col. James Wolfinbarger, chief of the Colorado State Patrol, "and it is totally preventable when drivers make smart choices. When a person has a few drinks and gets behind the wheel, that vehicle becomes a deadly weapon that can wipe out innocent lives. We will be out in force this holiday weekend and throughout the summer to stop impaired drivers before it is too late. And, remember to always buckle up."
During last year's "100 Days of Heat" enforcement, law enforcement made 3,531 DUI arrests during summer enforcement periods. Also in 2009, alcohol-related fatalities dropped 17 percent between Memorial Weekend and Labor Day, compared to the same time-period in 2008. Last year also marked the first time alcohol-related fatalities have dropped below 200 in Colorado.
"The high-visibility enforcement campaigns are working to reduce traffic deaths, but alcohol is still involved in more than 40 percent of our fatalities and that is totally unacceptable," said Russell George, executive director of the Colorado Department of Transportation. "CDOT will continue to support statewide law enforcement agencies with state and federal grants, as well as public education campaigns like the "Heat Is On" to combat this serious problem on our roadways."
One of the grant programs is "DUI Checkpoint Colorado" which supports nine law enforcement agencies and two CSP troops to conduct sobriety checkpoints beginning this Memorial Day Weekend and continuing throughout the summer. Participating agencies include: Aurora PD, Boulder PD, Colorado Springs PD, Denver PD, El Paso County SO, Jefferson County SO, Lakewood PD, Larimer County SO, Weld County SO and CSP Troop 4A Fruita and Troop 1D Adams County.
Fourteen sobriety checkpoints will be conducted this holiday weekend, in addition to plans for increased patrols and saturation patrols filed by 73 law enforcement agencies across the state. More details about the DUI enforcement plans and arrest results can be found at www.HeatIsOnColorado.com <http://www.HeatIsOnColorado.com>.
Jennifer Gray lost her husband, Brian, and 9-year-old twin daughter, Brittany to a drunk driver in 2004. Her surviving twin daughter, McKayla, now lives with disabilities from the crash, and her youngest daughter, Amber, is still traumatized. "One person's decision to drink and drive robbed our family of a father and husband, daughter and sister," said Gray. "Please think before you drink, and plan ahead to get a sober ride home. Lives are counting on the choice you make, including your own. Remember that a DUI-related crash is irreversible and 100 percent preventable."

Print This Post