By Laurie Hindman
Berthoud Recorder
Eighteen-year-old Berthoud High School senior Spencer Sterck completed his Eagle project in February by building shooting benches at the Berthoud Gun Club. He will be graduating from BHS in May and beginning his career with the U.S. Navy in June. Sterck said making Eagle wasn't easy, and there were plenty of times he thought of quitting, but he was glad he stuck with Scouting. "It was hard work — a lot of hard work over the years, but it was worth it."

Statistically, only 4 percent of all Boy Scouts will go on to earn the Eagle rank; for the Berthoud Troop 6 Elk Patrol, it's 100 percent. Each patrol member has earned the Eagle rank advancement. The five Berthoud seniors began their scouting career together seven years ago.
To become an Eagle, the boys advanced through six preceding ranks which included numerous requirements and a minimum of 12 service hours per rank, earned 21 merit badges, each with a detailed list of requirements, served in leadership roles for a total of 16 months and completed a complex Eagle Scout service project, all earned before turning 18.
They earned badges and gained expertise in many areas including camping, hiking, rock climbing, archery, shooting, boating, first aid, wilderness survival, citizenship in the community, nation and world, communications, fitness, personal management and handling emergencies such as fire, car accidents, earthquakes, floods, tornados and avalanches.
Category:
News – Community
News Image: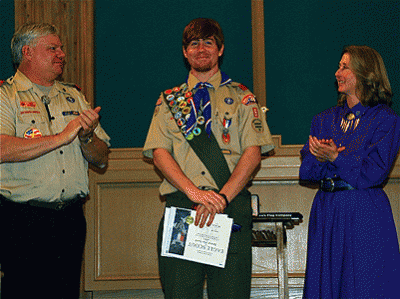 News Image: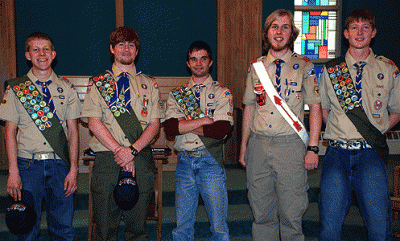 Long Description:
<p><span style="font-size: small;"><span style="font-family: arial,helvetica,sans-serif;">Berthoud High School senior Spencer Sterck, flanked by his proud parents Bill and Beth Sterck, celebrate his Eagle rank advancement at the First United Methodist Church on Saturday. </span></span></p>
Long Description:
<p><span style="font-size: small;"><span style="font-family: arial,helvetica,sans-serif;">The five Scouts were given a standing ovation on Saturday during Spencer Sterck&rsquo;s Eagle Ceremony. From left to right:&nbsp; Travis Freund (Eagle, Aug. 8, 2008), Spencer Sterck (Eagle, Feb. 13, 2009), Glenn Downer (Eagle, Feb. 22, 2007), Karl Honneger (Eagle, March 6, 2009) and Kevin Fossey (Eagle, Oct. 25, 2009).<br /> </span></span></p>
Category Lead:
Category Primary Featured Story

Print This Post