By Michael Hicks
Berthoud Recorder
LOVELAND — The pomp and circumstance was there, from the fireworks dropping from the scoreboard to the flames that welcomed the All-Stars onto the ice Jan. 14 for the 2009 Central Hockey League's annual classic at the Budweiser Events Center.
The goals were, too. Especially for the Eagles' Konrad Reeder. The Colorado left winger scored four times — twice in the decisive third period — in an 8-4 Eagles victory in front of a sellout crowd of 5,289. The teams were tied at three with 20 minutes left, but Colorado scored four times in the first 8 minutes, 26 seconds of the third period to put the game away.
"That's kind of what our team does. We've got so many guys that can make some plays. Once you get a little momentum we kind of turn one-goal games into three- or four-goal leads," Reeder said. "That's the way our team's been this year and that's what makes us successful along with unbelievable goaltending."
Greg Pankewicz, Ed McGrane, Riley Nelson and Jay Birnie also scored for the Eagles. Goaltenders Andrew Penner and Morgan Cey combined to stop 45 of 49 shots for Colorado.
The only thing that seemed to be missing was the fights. Now, All-Star Games aren't notorious for having any extra-curricular activity, but considering the physical game that the Eagles play one had to expect a little roughhousing. It never materialized.
But for the first time in three years, there was a penalty in the game. As a matter of fact, there were actually eight, ensuring the game was going to be anything but an offensive shootout.
"The score was 8-4, but I consider that to be a very good success. Obviously, it was a closer game than 8-4 would indicate," CHL commissioner Duane Lewis said. "It's nice to see the players play that hard, blocking shots, the intensity. The officials said there wasn't that much talking during the game, which in an All-Star game the players are a little more friendly. So that was nice to see."
While Reeder was the hero, Pankewicz added to his already record-setting All-Star career. His first-period goal was his ninth in All-Star Game history, breaking a tie he shared with former Memphis standout Don Parsons. He later added an assist on Reeder's third goal for his 19th career All-Star point, also a record.
"Anytime you can showcase your talents as an individual in an All-Star Game that's just one of those things where things go your way," Pankewicz said.
Things went pretty well for the Eagles, that's for sure.
BACK AT IT: While the All-Star game was fun, it was back to business last weekend for the Colorado Eagles. And as they did prior to the All-Star break, the Eagles proved why they are the CHL's best.
Morgan Cey made 34 saves and Colorado scored a 2-1 victory over Wichita. Konrad Reeder scored the game-winning goal with 5:53 left in regulation after the Thunder's Jason Duda tied the game nearly eight minutes earlier.
"It was huge," Cey said of how big the victory was to his confidence. He hadn't won a game since Dec. 19 at New Mexico. "Obviously, (Eagles teammate) Andrew (Penner) is the best goalie in the league. He's going to play a lot of game. I just want to be ready once I get called upon so I can contribute to this team."
Aaron Schneekloth gave Colorado a 1-0 lead 41 seconds into the second period.
On Friday, Kevin Ulanski's hat trick — the sixth of the season for Colorado — propelled the Eagles to a 6-3 win over Southern Conference-leading Odessa. The Northern Conference-leading Eagles overcame three power-play goals by the Jackalopes.
Colorado's six goals was the 12th time the team has scored at least that many this season in 36 games. That's one more time than the Eagles scored that many all season in 2007-08.
FILIPIC'S BACK: For the first 29 games of the season, right winger Fraser Filipic was just an afterthought. But now that the 28-year-old from Thorsby, Alberta, is back, he's making it known.
Filipic scored his first goal of the season in Friday's 6-3 win over Odessa. But maybe more importantly, since he returned Dec. 30 against Oklahoma City, Filipic has totaled 30 penalty minutes. What else would you expect from the most penalized player in team history?
ODDS AND ENDS: Fraser Filipic's return isn't the only movement going on with the Eagles. Colorado played defenseman Jay Birnie on the 14-day injured reserve last week and activated fellow defenseman Jason Beatty from IR. … With Filipic's return, rookie Adam Knight was waived by the Eagles to keep the active roster at 18. Knight had one goal in 34 games with Colorado.
News Image: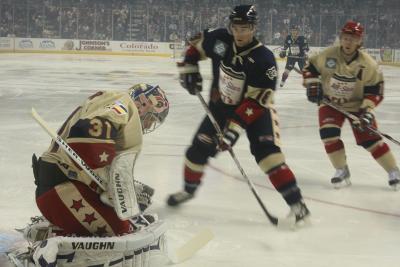 News Image: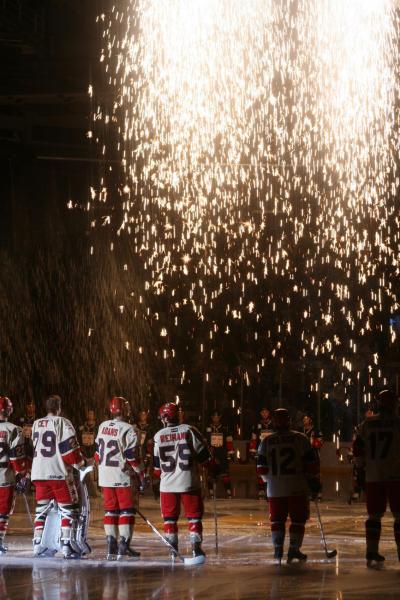 Long Description:
<p>Eagles goaltender Andrew Penner, left, makes one of his 25 saves &mdash; this one against Laredo's Darryl Smith &mdash; during the first period Wednesday night. Penner played the first 29 minutes of the game before turning goaltending duties over to teammate Morgan Cey, who stopped 20 shots for Colorado.</p>
Long Description:
<p>A sellout crowd savored fireworks before &mdash; and during &mdash; the game.</p>
Category Lead:
Category Lead Story

Print This Post