Courtesy of EarthSky
A Clear Voice for Science
www.EarthSky.org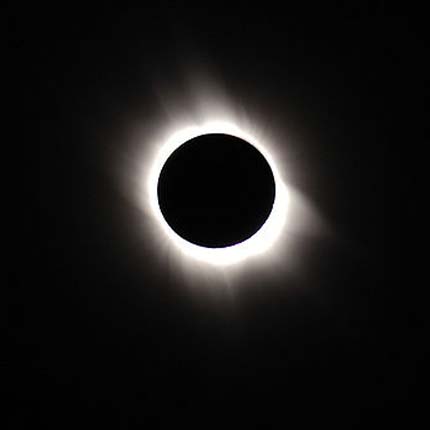 A total eclipse of the sun rates as one of nature's grandest spectacles. The new moon completely covers over the solar disk, momentarily turning day into night, and bringing the planets and brighter stars into view. During a total solar eclipse, you can see the sun's normally invisible yet beautiful corona encircling the new moon silhouette.
This year's only solar eclipse takes place tomorrow, on Sunday, July 11. A total solar eclipse can only happen at these rare times when the moon's dark shadow actually hits the Earth's surface. However, the lunar shadow falls primarily over the South Pacific Ocean tomorrow, so very few people will be in a position to witness Sunday's solar eclipse.
The moon's dark shadow first passes land at Mangaia of the Cook Islands in the early morning tomorrow. Then, the moon's dark shadow continues to travel eastward across the Pacific Ocean, sweeping across the chain of atolls known as French Polynesia. Later on, on Sunday afternoon, the moon's dark shadow shades out the skies over Easter Island (Isla de Pascua).
The moon's shadow finally falls upon a single continent: South America. However, the total eclipse is only visible at the southernmost reaches of Chile and Argentina at sunset, though a partial solar eclipse can be seen all the way to Paraguay, southern Bolivia and southern Peru. Thereafter, the moon's shadow lifts off the Earth's surface, not to return until November 13, 2012.
If you are in a position to watch tomorrow's solar eclipse, remember to use eye protection!
Related:
When is the next total solar eclipse in the US?
Total solar eclipse on July 11, 2010
Cool Animation of the July 11 solar eclipse
Total Eclipse Path Through Cook Islands (Mangaia)
Total Eclipse Path Through French Polynesia
Total Eclipse Path Through Easter Island
Total Eclipse Path Through South America
Written by Beth Lebwohl
Astronomy Picture of the Day from NASA/JPL
U.S. Naval Observator Astronomical Information center
The York County Astronomical Society

Print This Post