Courtesy of EarthSky
A Clear Voice for Science
www.EarthSky.org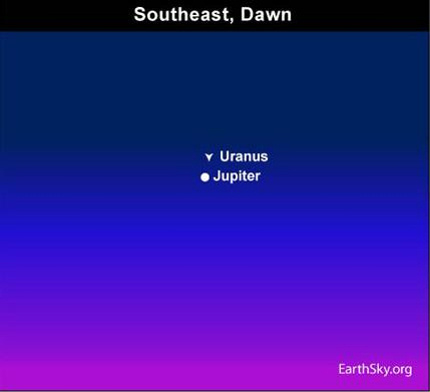 For all of us in the northern hemisphere, the earliest sunrises of the year are happening now, despite the fact that the solstice is still a week away. If you are privileged enough to be outdoors before one of these early sunrises, you'll find some of the most beautiful dawn twilights of the year … and, in 2010, you'll also find the second brightest of all planets, Jupiter, blazing away in the southeast sky. For the fun of it, we also highlight the planet Uranus, although you will not see this faint world unless you wake up before dawn and use binoculars.
The exact date of earliest sunrise varies with latitude. At 40 degrees north latitude – the latitude of, say, Denver in Colorado – the earliest sunrise of the year will happen tomorrow. For that same latitude, the latest sunset of the year will fall on June 27. This is in spite of the fact that the longest day of the year (in terms of daylight) comes on the June 21 summer solstice.
So it is for other northern hemisphere latitudes. The dates of earliest sunrise and latest sunset do not coincide exactly with the solstice. Appreciably south of Denver's latitude, the earliest sunrise has already come and gone (in early June) and the latest sunset occurs at a later date (sometimes as late as July). In Hawaii, for instance, the earliest sunrise precedes the June solstice by about 2 weeks, and the latest sunset comes about 2 weeks after. Farther north, the earliest sunrise and latest sunset happen closer to the June solstice. Check it out at your latitude, using links on our almanac page.
Or – better yet – experience it for yourself. Go outside at one of these early morning – when the predawn light is at its most fragile for the year – and enjoy.
Written by Bruce McClure
Astronomy Picture of the Day from NASA/JPL
U.S. Naval Observator Astronomical Information center
The York County Astronomical Society

Print This Post