Courtesy of EarthSky
A Clear Voice for Science
www.EarthSky.org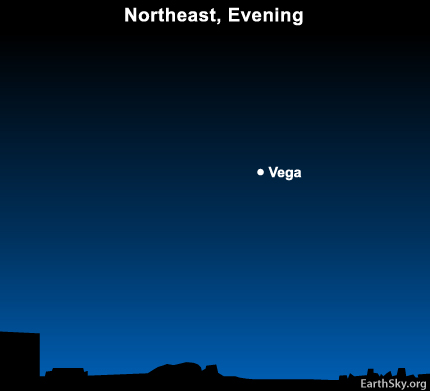 Here is the star Vega, the fifth brightest star in the sky. You will find this beautiful bluish star by looking northeastward in mid-evening. It is so bright that you can notice it, even when no other stars are visible.
Vega is the brightest star in the constellation Lyra the Harp. To see the shape of the entire Harp, check out this chart.
Vega is a lovely star to come to know. When I was first learning the night sky, 30 years ago, I spent hours, days, weeks, months pouring over charts and books. I sometimes came to know the names and whereabouts of certain stars before seeing them in the night sky. One soft May evening, I happened to glance toward the northeast. I was thrilled at the sight of Vega – gleaming, sapphire-blue – and surprisingly bright for being so low in the sky.
Like all stars, Vega rises earlier each day as Earth moves around the sun. Vega will ornament our evening sky throughout the summer and fall. Although Vega is considered a late spring or summer star, it is actually so far north on the sky's dome that you can find it at some time during the night, nearly every night of the year.
Written by admin
Astronomy Picture of the Day from NASA/JPL
U.S. Naval Observator Astronomical Information center
The York County Astronomical Society

Print This Post