Courtesy of EarthSky
A Clear Voice for Science
www.EarthSky.org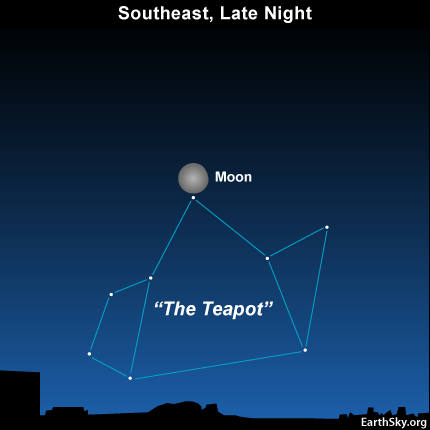 At middle latitudes in North America, the waning gibbous moon rises into the southeast sky about 2 hours after sunset. The full moon only happened a few days ago, so the moon tonight will look very bright as it shines from mid-evening until dawn.
Tonight's moon beams in front of the constellation Sagittarius the Archer. By around midnight, the Sagittarian Teapot will climb above the southeast horizon, with the moon sitting atop the Teapot. The Teapot is an asterism - a recognizable star pattern – in the western half of Sagittarius. However, you probably will not make out the Teapot tonight because of the lunar glare.
Look to the north (or left) of the rising moon this evening for the three brilliant stars of the Summer Triangle: Vega, Deneb and Altair. Here is a chart. When the moon drops out of the evening sky in a few more days, try star-hopping to the Teapot from the Summer Triangle. Simply draw a line from Deneb through Altair – descending about twice the Deneb/Altair distance – to land to the Teapot.
At present, the Teapot clears the horizon by around midnight. One month from now – in late June – the Teapot should be visible around 10 p.m.
Related:
Deneb belongs to a cross-like pattern
Teapot of Sagittarius: In the direction of galaxy's center
Written by Bruce McClure
Astronomy Picture of the Day from NASA/JPL
U.S. Naval Observator Astronomical Information center
The York County Astronomical Society

Print This Post