Courtesy of EarthSky
A Clear Voice for Science
www.EarthSky.org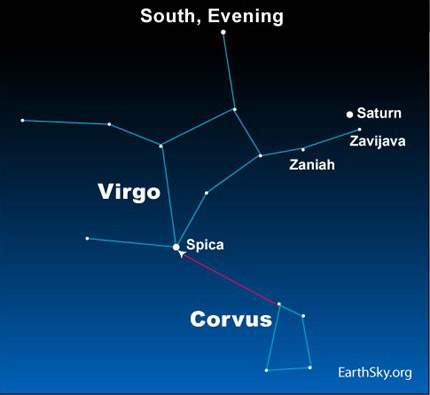 Astronomical almanacs list Saturn as "stationary" today. That doesn't mean that Saturn – like Polaris, the North Star – will remain in the same place in the sky all through the night tonight. Saturn will appear in your southern sky at dusk and nightfall. Thereafter, Saturn will descend westward, to set in the west during the wee hours after midnight.
What "stationary" means is that as seen from Earth, Saturn is now staying in one spot relative to the background stars. Ever since January 14, 2010, Saturn has been moving in retrograde (westward) in front of the constellation Virgo. Today, Saturn is reversing course, soon to go prograde (eastward) through the stars.
Last January 14, Saturn shone right next to the Virgo star Zaniah. Now Saturn sits next to the Virgo star Zavajava. By early September 2010, Saturn will move right by the star Zaniah once again.
Are you having a hard time finding Saturn tonight? First, try locating the star Spica, found near the small but distinctive constellation Corvus. If it is easier for you, star-hop to Spica from the Big Dipper. Once you settle in on Spica, Virgo's brightest star, look for Saturn nearly three fist-widths to Spica's right.
Written by Bruce McClure
Astronomy Picture of the Day from NASA/JPL
U.S. Naval Observator Astronomical Information center
The York County Astronomical Society

Print This Post