By Shari Phiel
Berthoud Recorder
In Pennsylvania, they are called Keystone Opportunity Zones, in New York it is Empire Zones, Michigan has Renaissance Zones and here in Colorado (along with California and Florida) they go by the name of Enterprise Zones. But no matter what they are labeled, the theory is still the same — encouraging economic growth and investment usually by providing tax incentives.
Enterprise Zones are typically deployed in distressed urban and rural areas with high unemployment rates and low income levels. In Colorado, there are currently 16 designated Enterprise Zones and two sub-zones. According to the Office of Economic Development, "Businesses located in a Enterprise Zone may qualify for up to 10 Enterprise Zone Tax Credits and/or Incentives that encourage and reward job creation and investment."
Tax credits available to businesses located within an Enterprise Zone typically include credits at both the state and local level. Credits available from the state include investment tax credits, job training credits, new business facility jobs and agricultural processing jobs credits, health insurance credits, research and development, and several others.
Berthoud's own Enterprise Zone was recently expanded when the Board of Trustees voted at their May 12 meeting to add four properties located at the intersection of U.S. Highway 287 and State Highway 56, a request initiated by Mayor Tom Patterson. During discussions at the board meeting, Trustee Glen Buckingham called the expansion "a huge plus" for the community.
But the efficacy of Enterprise Zones has recently been called into question. A 2005 study completed by the Minnesota House of Representatives says that while, "Basic no-frills economic theory suggests that lower taxes and less regulation will increase jobs and incomes in the zones by attracting capital, labor, and economic activity," empirical studies have not supported these claims and suggest there is a need for further studies.
According to the study, research on tax incentives suggests, "certain pre-existing regional conditions may set the stage for economically successful tax incentive programs. These conditions include areas with low unemployment rates, high levels of investment, and suburbs." However, this often includes locations investors already anticipate being profitable.
In order to work efficiently, tax incentives provided by Enterprise Zones must overcome the barriers to establishing or expanding a business within the zone. These barriers can include lack of access to roads, rail or other transportation methods for goods and services, inability to obtain funding or capital, an unqualified labor pool or environmental constraints such as restrictive codes, land reclamation policies or waste cleanup costs.
Then there's the question of who pays for all those incentives. The answer is you, the taxpayer. Whether the incentives are paid for through the state or through federal stimulus funds, it is ultimately the taxpayer who picks up the tab — an idea that doesn't please everyone.
Berthoud resident Dorian Ryan spoke during the public comment period at the Tuesday, May 26 Board of Trustees meeting. "One important issue that as not addressed … how much this was going to cost the town in Town resources going to the zone and in lack of tax dollars coming out."
Ryan noted that she is not necessarily opposed to the expansion of the current Enterprise Zone, but was more concerned about how quickly the expansion was moved through and the lack of opportunity for public input and discussion, especially for those not directly involved with the Town's economic development team.
Town Administrator Jim White added that since the request for the expansion was reviewed, other properties owners such as Larry Bebo, Mark Chaffee and others have requested their properties be included.
While it is clear that the creation of, or inclusion in, an Enterprise Zone is not the sole determining factor for a community's or business's success, if done correctly it can provide a much needed leg up.
At the recent BOT meeting, Trustee Jeff Hindman said, "We need to do everything, we need to have our hand in every pie, we need to be looking at any potential option. The only thing that is going to improve this town's budget is growth."
Category:
News – Business
News Image: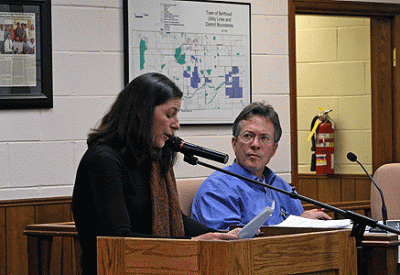 Long Description:
<p>Dorian Ryan talks about Enterprize Zones at the most recent Town Board meeting while Jim White listens.</p>
Category Lead:
Category Primary Featured Story

Print This Post