Role Players: P.J. and Lexi DiPentino
By Michael Hicks
Berthoud Recorder
The kids were lined up three deep, 50 kids in all, waiting their turn. P.J. DiPentino, the owner and operator of the Berthoud BMX, was on hand at the Loveland Boys and Girls Club, where he helped design and build the first BMX track at the facility.
The kids were eagerly waiting to ride one of the broken-down bikes that he and Adam Wasson had rebuilt and cleaned up — each bike coming with a helmet. Then one-by-one the riders take their turn circling the track four, five times before handing it off to the next rider. That was just the first day of the summer program to give kids a chance to ride the bike, even if they weren't interested in BMX.

"We've been surviving doing this the whole summer. It's enjoyable," said the 46-year-old father of five.
To these kids, this isn't all about BMX, the sport. This was about working up a good sweat and doing something. In a somewhat similar fashion that's how DiPentino and his family got into the sport eight years ago.
It was then that his oldest son, Patrick, had a BMX bike resting in the garage collecting more dust than victories. He had ridden before thanks to his biological mother, Sherry, but gave it up after the death of a close childhood friend. As P.J. DiPentino cleaned up the garage he asked Patrick what he wanted to do with his bike.
"His response basically was I don't have a trainer anymore. I don't know who can help me," DiPentino said. "We went out and got him some local guys to help him learn and we started racing together."
It was that one question that has altered DiPentino's life ever since.
"I didn't know squat. I was a complete dummy. I had to ask people questions about the basics," DiPentino said.
Now, not only does he and wife, Lexi, know all about BMX, but their family is an authority of sorts on it. From Patrick, who is now 20, on down to 6-year-old Olivia, the DiPentinos have devoted their life to a sport that P.J. DiPentino had no inclination of joining before. But Patrick's ambition changed all that.
A trip to nationals in Las Vegas has been followed by younger sisters, Gabriella and Olivia, joining brother Phillip on the circuit. That in turn has grown into Berthoud getting its own BMX track, but that wasn't as easy as one might think. It took an impromptu meeting between Lexi DiPentino and then-Berthoud mayor Milan Karspeck to get that ball rolling.
"I was working at the Wayside Inn and Mayor Karspeck came in one night. He asked me about my family. So we're just chit-chatting and I said 'You've probably seen us in the newspaper. We're the BMX family,' " Lexi DiPentino said. "He said 'Really? Do you want to open a BMX shop in Berthoud?'"
That was all he had to say. After the town had voted in new board members and current mayor Tom Patterson, a BMX track was put on the agenda. A 7-0 vote later and P.J. DiPentino was building a track within six days and BMX was born in Berthoud. The Berthoud track is one of 12 in the state, but the first one in the last 10 years to be built from the ground up.
Though the Berthoud track doesn't have simple things, like electricity and water, and isn't refurbished like other tracks are, that hasn't stopped it from being noticed. There've been two state qualifying races, two race-for-life races and a redline championship qualifier at the track since it opened in June 2008. A lot of that is because of the DiPentino family's drive and dedication. This is their life nowadays.
"It is. We volunteer all of our time and energy," Lexi DiPentino said. "It's definitely the payoff to see the kids. We've got a really good group of 4- to 7-year olds starting out. These little tykes are so cute, so excited and so energized. It's really neat to see the next generation coming in heats and waves."
Patrick has hung up his bike. He's now serving in the Air Force in hopes of getting his college degree. But Gabriella, a five-time world qualifier and six-time state champion, is still going strong, younger siblings Phillip and Olivia are both state champion contenders, and P.J. and Lexi DiPentino are behind them running the show.
It's not unusual for 20 to 50 riders to show up for a typical Friday or Sunday night race in Berthoud, bringing in anywhere up to 500 people a month, be it national and world competitors to 5-year-old novices. That is the life the DiPentinos live now.
"It's become a way of life for us," said P.J. DiPentino, who is the owner of a national race team and president of the Berthoud BMX Association. "If you asked me 10 years ago when I was sitting with a backpack at my first national race and I didn't know how to read the moto sheet that I would be making a living and surviving at it I would've never have thought about it."
But it's a lot of what he's thinking about nowadays.
---
Names: P.J. and Lexi DiPentino
Ages: 46 (P.J.); 33 (Lexi)
Careers: Self-employed/Waitress, Derby Grille
Family: Married. Children, James, 24; Patrick, 20; Gabriella, 15; Phillip, 8; Olivia, 6
Quotable: "If you asked me 10 years ago when I was sitting with a backpack at my first national race and I didn't know how to read the moto sheet that I would be making a living and surviving at it I would've never have thought about it." — P.J. DiPentino
News Image: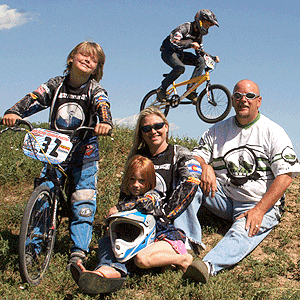 Category Lead:
Category Primary Featured Story

Print This Post