By Sandy Barnes
Berthoud Recorder
In the near future, travelers at the Denver International Airport will be able to view an extensive collection of photographs and artifacts reflecting the farming heritage of Berthoud.
Tom Vaughan, director of the Little Thompson Valley Pioneer Museum, is working with a design team to assemble the exhibit, which will be featured on Concourses A and C beginning April 24.
Central to the exhibit will be contemporary photographs of Vaughan and Jon Youngblut along with vintage images of the Berthoud farm community. Artifacts to be displayed in 12 cases at the airport will include a handmade quilt, dairy implements, a hay rake and other essential tools of farm life, 90 percent of which will come from Berthoud.

As members of the design team, Kelly Hines-Keller and Youngblut are helping Vaughan gather articles for the exhibit, which an estimated 5,000 people per week will have an opportunity to see.

One of the display cases will be related to the popular annual fly-in held in Berthoud, featuring calendars produced by the Berthoud Historical Society. Collaborating with Youngblut, Vaughan created the photographic exhibit titled "Berthoud's Farming Heritage" in 2003, with sponsorship from the Berthoud Historical Society.
The 88 photos comprising the collection depict farmers and their families, houses and barns, crop harvesting and equipment. Produced as traditional black-and-white silver gelatin prints, the photographs portray Berthoud's past and present as an agricultural community. Sweeping landscapes and close-up images tell a comprehensive story of farm life.
In the introduction to a book containing photographs in the exhibit entitled "Berthoud's Farming Heritage, Images of Agriculture from Colorado's Little Thompson Valley," Vaughan wrote: "The history of Berthoud is deeply intertwined with agriculture … Today the fields are giving way to suburban tracts, obliterating the history and lifestyle … The mission of the Berthoud Farm Project is to collect documents of that farming lifestyle before it fades away."
Since creating the exhibit, Vaughan has sought venues for display by sending catalogues to places that might be interested, including the Historical Society of Denver. Several months ago, he happily received word through the city's historical society that the Denver airport would like to feature the exhibit this spring and summer.
Category:
News – Community
News Image: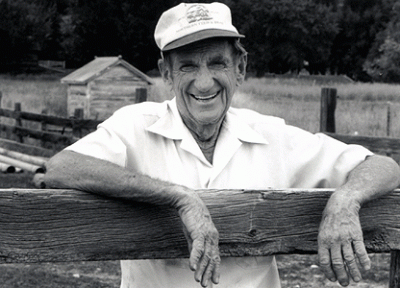 News Image: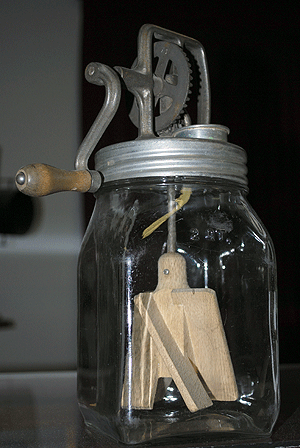 Long Description:
<p><span style="font-size: small;"><span style="font-family: arial,helvetica,sans-serif;">Retired farmer Ed Lempka is featured in the Berthoud Farming Heritage exhibit that features this and other photos by Tom Vaughan, director of the Little Thompson Valley Pioneer Museum<br /> </span></span></p>
Long Description:
<p><span style="font-size: small;"><span style="font-family: arial,helvetica,sans-serif;"> This quilt will be among farm artifacts that will be displayed at Denver International Airport.</span></span></p>
Long Description:
<p>Also check out this butter churner at the DIA exhibit.<br /><span style="font-size: small;"><span style="font-family: arial,helvetica,sans-serif;"><br /> <br /><br /></span></span></p>
Category Lead:
Category Lead Story