**UPDATED JULY 6**
By Jamie Folsom
Berthoud Recorder
EATON — Along with the proposed reservoir at Chimney Hollow, the NCWCD has also been trying to get the Northern Integrated Supply Project off the ground. The project may have profound effects for the region's farmers, and more than 270 of them gathered Tuesday, June 28 to show their support.

State Sen. Kevin Lundberg (R-15) attended the rally to show his strong support for the project. "This is not an issue that can be put off. Water is the lifeblood of Colorado, is the lifeblood of northern Colorado in particular," he said.

"We wouldn't have the community we have today if people hadn't in previous generations done exactly what we are doing here today, which is putting in place the infrastructure for tomorrow."

Critics of the project point to environmental conservation as their foremost concern. No doubt the project, including a dam northeast of the mouth of the Poudre River Canyon and two massive reservoirs, will change the area's landscape forever. But farmers say the changes are needed if there is to be reliable sources of water for millions of acres of agricultural lands. Even in a year when the drought is clearly in the past, ag producers are still concerned.

"Wouldn't this have been a time to fill a reservoir?" asked former Colorado Agriculture Commissioner Don Ament, alluding to the overflowing creeks and ponds that dot the landscape. He and others noted the excess water will head downstream to surrounding states this year.

State Rep. Don Marostica (R-51) echoed the sentiment. "Today we're sending more than 2,400 CFS (cubic feet per second) outside the state. We could be storing that water, and then in the bad years when you need it, you can use it."

Noting that Colorado is only one of two states that receives no outside water, Berthoud resident and candidate for the Republican congressional ticket Tom Lucero said Colorado is lucky. He emphasized that the state needs to take advantage of its water resources.

"Any time a drop of water hits the state of Colorado, and we're not able to capture what's ours, [it] means less water for the state of Colorado overall, so the more we can do in our region of the state to help capture water and to save our water, it's a better system overall," he said.

Several agricultural groups have given their support of NISP, including the Colorado Farm Bureau and the Colorado Corn Growers.
News Image: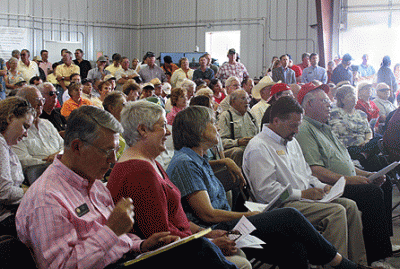 News Image: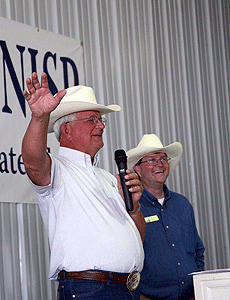 Long Description:
<p><span style="font-size: small;"><span style="font-family: arial,helvetica,sans-serif;">More than 270 ag producers, families and lawmakers gathered for the Farmers for Northern Integrated Supply Project rally in central Weld County on Tuesday, June 30. The rally was organized by NISP developers Northern Colorado Water Conservancy District.</span></span></p>
Long Description:
<p><span style="font-size: small;"><span style="font-family: arial,helvetica,sans-serif;">Former Colorado Ag Commissioner Don Ament, left, and Weld County Commissioner Sean Conway emceed the Farmers for NISP rally, which drew more than 270 ag producers, families and lawmakers.</span></span></p>
Category Lead:
Category Secondary Featured Story
Home Lead:
Home Page Lead Story

Print This Post