14 defining characteristics of fascism: the U.S. in 2012 [1]
By Gregory Patin  [2], Madison Independent Examiner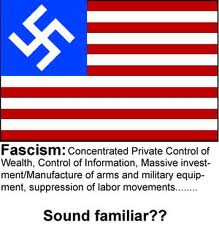 [3]
"When fascism comes to America, it will be wrapped in the flag and carrying the cross."
— Sinclair Lewis, It Can't Happen Here . (1935)
In the spring of 2003, ex-corporate executive and political scientist Lawrence W. Britt published an essay in Free Inquiry  [4]magazine entitled "Fascism Anyone?" [5] In his work, Britt examined the traits of the two governments that formed the original historical model for fascism, Nazi Germany and Fascist Italy, and five other protofascist regimes that imitated that model, Franco's Spain, Salazar's Portugal, Papadopoulos's Greece, Pinochet's Chile, and Suharto's Indonesia. He identified 14 characteristics that were common to all of them. These traits have since been widely accepted as the 14 defining characteristics of fascism.
Nearly three generations removed from the horrors of Nazi Germany, all of these regimes have been overthrown, but fascism's principles can still be found in many nations. History tends to repeat itself because many leaders and nations fail to learn from history, or draw the wrong conclusions. Sadly, historical amnesia is the norm in the world today.
In the U.S., leaders, teachers, media and citizens proudly claim that America is a democratic society with certain freedoms and rights guaranteed to all citizens by the constitution, bill of rights and rule of law. But is that really the case? A close look at the 14 characteristics of fascism  [5]in light of what has changed in America in the past few years may raise some questions as to whether or not Americans truly live in a democratic society.
1. Powerful and continuing expressions of nationalism. From the prominent displays of flags and bunting to the ubiquitous lapel pins, the fervor to show patriotic nationalism, both on the part of the regime itself and of citizens caught up in its frenzy, was always obvious. Catchy slogans, pride in the military, and demands for unity were common themes in expressing this nationalism. It was usually coupled with a suspicion of things foreign that often bordered on xenophobia.

[1]
Chomsky Warns of Risk of Fascism in America [6]
By Matthew Rothschild, April 12, 2010
Noam Chomsky, the leading leftwing intellectual, warned last week that fascism may be coming to the United States. [7]
"I'm just old enough to have heard a number of Hitler's speeches on the radio," he said, "and I have a memory of the texture and the tone of the cheering mobs, and I have the dread sense of the dark clouds of fascism gathering" here at home.
Chomsky was speaking to more than 1,000 people at the Orpheum Theatre in Madison, Wisconsin, where he received the University of Wisconsin's A.E. Havens Center's award for lifetime contribution to critical scholarship.
"The level of anger and fear is like nothing I can compare in my lifetime," he said.

[6]