Featured Annuals
By: Susan Stauber
Ball Seed Horticulture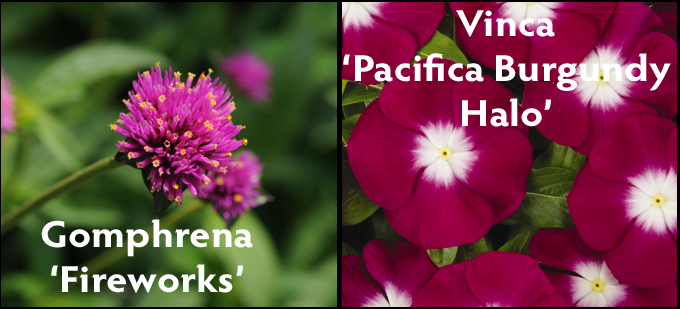 Gomphrena 'Fireworks' and Vinca 'Pacifica Burgundy Halo'
Are you looking to create some fireworks in your garden this year? Look no further than the new introduction Fireworks Gomphrena! This vigorous, tough-as-nails plant has proven to be a sparkling gem in the landscape. 'Fireworks' is drought-tolerant and low-maintenance. With its bright yellow anthers poking out of long-lasting hot pink flowers, the flowers themselves look like miniature fireworks exploding in the garden. Use this plant at the back of the border or anywhere you might like to create a dramatic vertical exclamation point in your garden.
Another wonderful choice for mid-summer flower power is 'Pacifica Burgundy Halo XP'. This plant is a 2009 All American Selection (AAS) award winner and for good reason. Burgundy Halo is outstanding in hot, dry, sunny conditions making it a perfect fit for Colorado gardens. These durable, stress-tolerant plants meet the increasing demand for water-wise crops all while showing off some of the largest, most vibrant, burgundy and white bicolor blooms found in Vinca. Burgundy Halo is a versatile plant that can be used in containers or at the front of your border to create an eye-catching display. So go on, create a few fireworks in your garden this year!
Gomphrena 'Fireworks'
Blooming Season: Late Spring, Summer, Autumn
Plant Habit: Upright
Spacing: 20 to 36 inches (51 to 91cm)
Height: 36 to 48 inches (91 to 122cm)
Width: 36 to 48 inches (91 to 122cm)
Exposure: Sun
Vinca 'Pacifica Burgundy Halo XP'
Blooming Season: Late Spring, Summer, Late Summer
Plant Habit: Mounded, Upright
Spacing: 6 to 10 inches (15 to 25cm)
Height: 10 to 14 inches (25 to 36cm)
Width: 6 to 8 inches (15 to 20cm)
Exposure: Sun
Featured Perennials
By  Gay Bechir
Echter's Garden Center
Agastache
Photo credit: Panayoti Kelaidis, Denver Botanic Gardens
Are you looking for a bit of drama for that hot, dry, typically Colorado spot in the yard? It's Hyssop to the rescue! Hyssop (Agastache) is a member of the mint family (though not invasive), which offers lovely fragrant foliage, like its relatives, but topped with a colorful array of trumpet shaped blossoms in late summer.
Sunset Hyssop (Agastache rupestris) is a Plant Select® introduction, especially well suited for our area. The blooms are bi-color, rosy-pink and sunset orange with thread-like grey-green leaves and a delicate appearance. A good companion plant for this variety is Salvia 'Cardonna', whose purple spires (to 36 inches) look great with all the Hyssops. This combination is a showstopper when planted together and both are drought tolerant!
For backdrops/screens, 'Blue Fortune' is great. It can reach a height of 36 to 48 inches and behaves more like a shrub than a typical hyssop. Its anise scented foliage is topped with blue flower spikes that bloom from June until frost. It makes a great companion for Shasta daisies or silvery Artemisias.
A beautiful sunset effect can be had by mixing the 'Sunset', 'Coronado®', and 'Double Bubble' varieties with a 'Blue Fortune' backdrop. Add some Gaillardia and Aurinia for all season color! Remember to plant where you will be able to enjoy the scented foliage as you brush against it and to watch the butterflies and hummingbirds it attracts. You will be treated to mint, root beer, anise, or bubble gum scents, depending on variety.
When you plant a hyssop you are creating a magnet for wildlife and a feast for the senses.
Featured Woodies
Submitted by: Mona Dyer, CCNP
Bookcliff Gardens
Sophora japonica – Japanese Pagoda Tree, also known as Chinese Scholar Tree
Photo credit: Jeff Lafrenz, J. Frank Schmidt & Son.
If you have been looking for an interesting ornamental tree that is not too fussy, this plant may be the answer! Softly textured foliage, summer-time flowers, bead-like seed pods and pretty winter twigs make Sophora japonica a tree for all seasons!
Japanese Pagoda Tree flowers during the heat of summer when few other trees are in bloom, but that is only part of its appeal. In its native China, this medium-sized tree can grow to 65 feet when fully mature, usually with a broad rounded crown. However, in Colorado Japanese Pagoda may still be relatively small in stature after 30 years of growth, reaching perhaps 30 to 35 feet high. As a result, it is a good choice for planting in city or suburban settings where space may be limited. It grows rapidly while young, and tolerates city conditions, heat, and drought.
Japanese Pagoda Tree casts an attractive, light, dappled shade in youth, but offers much denser shade with maturity. Its foliage is graceful and somewhat fernlike, with 6 to 10 inch long compound leaves, each with 9 to 13 small leaflets. The tree holds its lustrous bright green leaves well into fall before the foliage turns a soft yellow. Its young twigs remain bright green and provide interesting winter color.
Large, lightly fragrant, creamy-white to yellowish-green sweet pea-like flowers hang in long clusters, blanketing the tree for about three weeks in mid to late summer. Young seedling Pagoda trees, especially in northern areas of its range, may not flower for the first ten or so years of its life. In areas with warm summer nights, though, the tree starts flowering sooner. If patience is not your virtue, other named options include varieties like 'Regent' and 'Halka' Japanese Pagoda, which flower at a younger age.
Japanese Pagoda flowers turn into bright green pods that mature to yellow-green. The pods are flattened, with the seeds within appearing as a string of beads inside the pods. The pods persist into December or beyond, and the seeds are readily eaten by birds. Japanese Pagoda Tree is hardy in zones 4 to 8, and prefers an open, sunny locati
Articles and photos courtesy of the Colorado Nursery & Greenhouse Association
Visit www.coloradonga.org home gardeners for gardening information and to find a local independent retail location.
Go to www.gardencentersofcolorado.org where you can find out more about the many wonderful plants that are perfect for Colorado gardens and the garden centers that provide them.

Print This Post