Friday, February 17, 2012 7:30 – 11:00 PM 
Public Star Night at the Little Thompson Observatory,
850 Spartan Ave at Berthoud High School (park east of the high school; directions are posted on  www.starkids.org).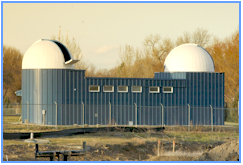 The speakers for this evening will be Andrea Schweitzer and Daniel Greenidge, both volunteers with the LTO. Their talk is titled: Outdoor Lighting and its Effect on our Safety, Streets and Skies.
Good quality outdoor lighting improves safety, is better for business, and protects the environment. Please join us to learn more about how to effectively choose lighting that benefits everyone with increased safety and reduced operating costs, while effectively safeguarding our endangered night skies.
Andrea Schweitzer, Ph.D. is an astronomer and board member of the Little Thompson Observatory. She received her doctorate in astronomy from the University of Wisconsin. Later, she helped test one of the cameras for the Hubble Space Telescope, and her research has been written up in publications ranging from the New York Times to Sky & Telescope Magazine. Andrea works from Fort Collins as a project management consultant for NASA and for astronomy education.
Daniel Greenidge is a homeschooled sophomore who has always had a love for the night sky. At age 14, after a few years of amateur observing, he began volunteering at Fiske Planetarium (CU-Boulder), where he was introduced to the academic side of astronomy. One year later, he started volunteering at the Little Thompson Observatory, where he works with all ages, explaining the night sky. Other interests include classical piano, backpacking, and physics. He resides in Loveland with his parents and twin sister.
After the presentation, weather permitting, visitors will be able to look at celestial objects through the LTO's large telescope.
Public star nights are held the third Friday of each month (except July, when the LTO is closed for annual maintenance). No reservations are necessary for these nights.
If you have any questions, please call the observatory information line at 970-613-7793 or check the LTO web site at: www.starkids.org

Print This Post