By Jamie Folsom
Berthoud Recorder
Voicing the problem was easy: health care costs are soaring. But working through the reasons and broaching possible solutions proved to be emotional, complex and ultimately thought-provoking for many who attended the public forum on health care in Loveland recently.
The forum, hosted by the Southern Larimer County Democrats, was led by family physician and Health District of Northern Larimer County board member Dr. Bernard Birnbaum. The forum looked at the issues from a values-based perspective — weighing services, clients' needs, insurance industry goals and economic policies in the balance.

Birnbaum noted, "Americans are living longer and healthier, and that has a cost." Compared to other countries in the world, that cost is surprisingly high — some $7,000 per person per year, or twice as much as in England — and is growing at an astounding rate. And yet ironically, Birnbaum added, the U.S. services and health are less than expected.

"America is 37th in the world in terms of health, and that's just embarrassing," Birnbaum said.
In addition to nearly 50 million Americans without insurance, there are millions more who are "under-insured," with policies that do not cover routine health maintenance, excludes treatment for many common diseases (such as diabetes and rheumatoid arthritis) and carry prohibitively high deductibles.
Adding to the discussion was a short film "Health, Money and Fear," which draws from the insurance industry, politicians and health care providers. It raised serious questions about using a business model to drive medical and health care services. It also takes an insider's look at what physicians say about how this model affects their relationships with clients. Their responses seem to indicate business-driven health care is damaging.
But where do the solutions lie? Although Birnbaum personally supports a single-payer plan for health care on a national level, he also sees the difficulty in implementing such a plan when Americans are so deeply divided on the issue. For some, the words "socialized medicine" ring an ominous tone, but for others, the idea rings hope for universal coverage.
If the wide-ranging and thoughtful debate at the public forum is any indication of the nation's readiness to address the urgent need for some kind of health care reform, then it is a long and difficult effort that is before us. But, Birnbaum believes that taking a hard look at the best information available and reaching beyond preconceptions is a great first step.
News Image: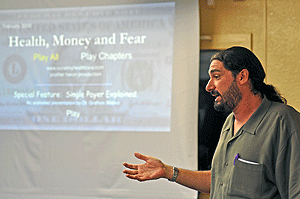 Long Description:
<p>Dr. Bernard Birnbaum led the discussion at a recent health care public forum in Loveland.</p>
Category Lead:
Category Secondary Featured Story
Home Lead:
Home Page Lead Story

Print This Post