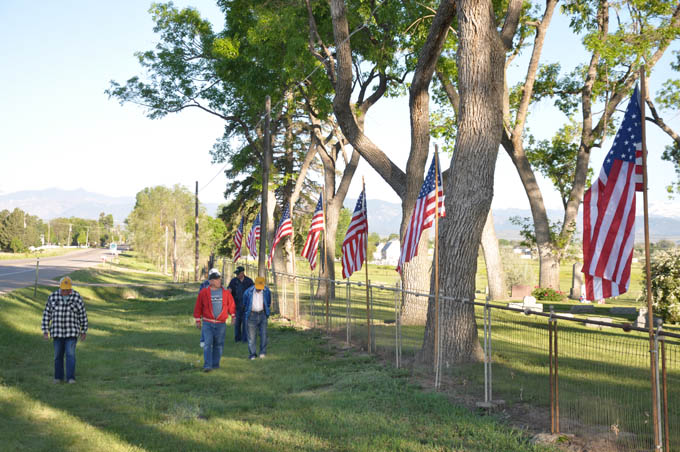 Lions Club members Sam MacDonald, John Bona, Curtis Wilson, Mike Waldo and Jon Erickson placed 14 flags at Greenlawn Cemetery early on Monday morning.
The annual observance of Memorial Day was marked by the Berthoud Lions Club putting up a row of flags at Greenlawn Cemetery. The flag raising has been a Lions' tradition for more years than the volunteers can recall. Inside the cemetery, the graves of veterans had already been marked with small individual flags.
Initially called "Decoration Day," this day commemorates U.S. Soldiers who died while in military service. The day was originally enacted to honor Union soldiers of the Civil War and was expanded after World War I to honor dead Americans from all wars.
As in many communities, the flags in Greenlawn Cemetery are put on the graves of all veterans, not just those who died in service.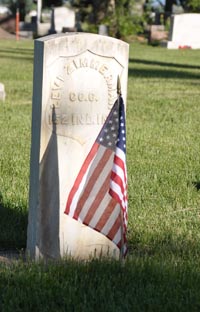 Levi Zimmerman
Civil War Veteran Levi Zimmerma. A walk through the cemetery will serve as a reminder of how many of our past citizens have served. Veterans from the Civil War through the current conflicts are interred in the local cemetery. The origins of the observance date to when General John Logan, National Commander of the Grand Army of the Republic-the society of Union Army veterans, called upon all GAR posts to celebrate a "Decoration Day" on May 30, 1868. He wrote on this occasion, "Let us in this solemn presence renew our pledges to aid and assist those whom they have left among us, a sacred charge upon a nations gratitude the soldiers and sailors widow and orphan."
General Logan's original words are worth recalling, as the "ravages of time" dull our memory. In General Order No. 11, the commander in chief of the Grand Army of the Republic wrote:
"The 30th day of May 1868 is designate for the purpose of strewing with flowers or otherwise decorating the graves of comrades, who died in defense, of their country during the late rebellion, and whose bodies now lie in almost every City, Village, and hamlet, church yard in the land. In this observance, no form of ceremony is prescribed, but Posts and comrades will in their own way arrange such fitting services and testimonials of respect as circumstances may permit.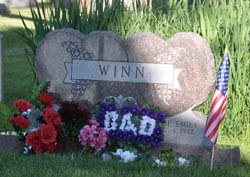 A more recent burial,
"We are organized, comrades, as our regulations tell us for the purpose, among other things 'of preserving and strengthening those kind and fraternal feelings, which have bound together the soldiers, sailors and marines who united to suppress the late rebellion.' What can aid more to assure this result than by cherishing tenderly the memory of our heroic dead, who made their hearts a barricade between our country, and its foes, their soldier lives were the reveille of freedom, to a race in chains, and their deaths the tattoo of rebellious tyranny in arms. We should guard their graves with sacred vigilance, all that the consecrated wealth and toils of the nation can add to their adornment and security, is but a fitting tribute to the memory of her slain defenders. Let no wanton foot tread rudely on such hallowed grounds. Let pleasant paths invite the coming and going of reverent visitors and fond mourners. Let no vandalism of avarice, or neglect, no ravages of time, testify to the present, or to the coming generations, that we have forgotten, as a people the cost of a free and undivided Republic."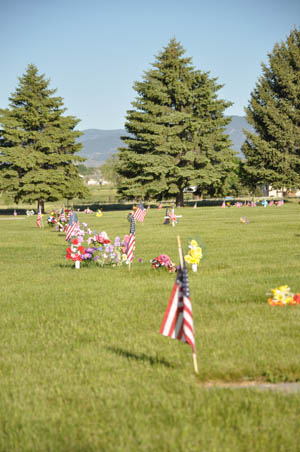 Many flags decorate the "new" section.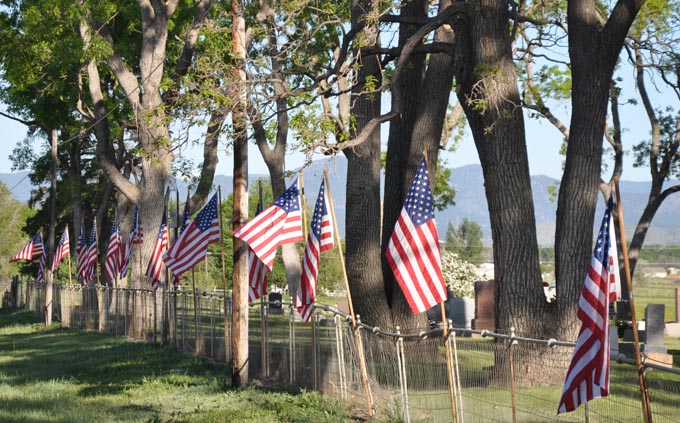 Fourteen flags placed by the Berthoud Lions Club in observance of Memorial Day.