By P.J. DiPentino
Berthoud Recorder
At times, reaching a goal is more about the obstacles you have to overcome than achieving a specific end result. This was certainly the case recently for Berthoud's Wyatt Bell.
The Bell family traveled to Australia last month, where Wyatt participated in the 2009 BMX World Championships with Team USA. Wyatt, 6, is the defending world champion and had been training hard for three months, even going as far as to build a replica of the upcoming world championship tracks first straight on the family ranch.
That alone makes the Bells a different breed of family compared to the average. They are very committed to their children and often sacrifice their needs to give their sons, Wyatt and River, the best equipment and support they can find. Parents Sunrise and Travis were accomplished athletes, themselves — Travis a two-time Olympic bobsledder and Sunrise a collegiate basketball player at Wyoming. Even the boys' grandfather was an accomplished baseball player.
To say the least, they are a sports-minded bunch.
Wyatt and his parents arrived in Australia to a dreary gray day. Although the trip was long they were excited about the upcoming world race. But during practice Wyatt seemed a little off his game.
"He just looked real shaky. He seemed slow and cautious," Travis Bell said.
During the next couple of days, Wyatt raced his hardest, winning most of the qualifiers. He raced his way into the main event. Bell's race was so close that officials had a photo finish on their hands. When the results came in Wyatt had lost by less than an inch. His little heart was broken, but he held his head high.
Could Wyatt do anything different to improve on his result? Probably not in the way he raced, according to his father.
Travis Bell said that in the day after Wyatt's shaky practice his condition seemed to worsen. He was feeling sick and his family thought that he was coming down with a cold. After then after main event race, Wyatt was taken to see a doctor. By then, his parents weren't feeling well themselves and thought that a general checkup would be a good idea. After visiting an Australian doctor, they learned that the entire family had caught the H1N1 swine flu bug.
They weren't the only sick families at the championships. Many more were infected and some riders couldn't even compete. It's incredible that Wyatt was able to. He came within inches of repeating as a world champion while unknowingly battling the swine flu.
The Bells were kept in Australia until local authorities released them and allowed them to return home only to spend a couple days quarantined on their rural Berthoud ranch.
"The kid trained his butt off only to get beat up by a virus," Travis Bell said. "I never would have thought that would happen."
The city of Adeline, Australia, which hosted the world championship, recorded more than 1,200 cases of swine flue last month. Being that it's winter season there, the contagiousness of the H1NI virus is considered to be at its highest level.
While the Bell family will never forget the trip — it will be talked about at the dinner table for years to come — it won't be remembered as a loss but as an incredible journey that they shared.
News Image: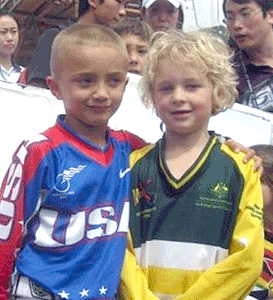 Long Description:
<p><span style="font-size: small;"><span style="font-family: arial,helvetica,sans-serif;">Wyatt Bell 6, at left, was the defending world champion for his class.<br /></span></span></p>
Category Lead:
Category Lead Story

Print This Post