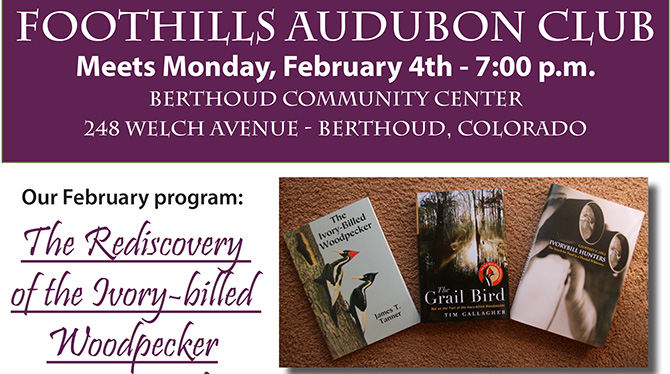 The Foothills Audubon Club will be having their program "The Rediscovery Of The Ivory-Billed Woodpecker – Revisited," on Monday, Feb. 4 at 7:00 p.m. at the Berthoud Area Community Center, 248 Welch Avenue, Berthoud, Colorado.
In February of 2004 an Arkansas resident reported seeing an Ivory-billed Woodpecker while kayaking through Cache River National Wildlife Refuge. With the sighting subsequently reported to the Cornell Lab of Ornithology, a Lab team searched the same area and two experienced observers watched the bird fly from tree to tree at close range.
A research team of several organizations was formed and after three additional sightings a fourth sighting was captured on video. Subsequent observations were made. However, some have expressed doubt that the video shows an Ivory-billed. View the film and the careful analysis by the Cornell researchers and see what you think.
After the program, refreshments will be served. This event is free and open to the public, all ages are welcome!
For more information, please call (970) 980-7932 or (970) 532-2194.
View full program flier by clicking Here

Print This Post