UPDATED …
By Michael Hicks
Berthoud Recorder
State wrestling champion Nick Ludwig, a 2008 graduate of Berthoud High School, was seriously injured in a single-car accident Saturday afternoon that claimed the life of a fellow Mesa State University student.
The 19-year-old, who won a 4A state wrestling championship as a senior at 130 pounds, was in serious but stable condition Tuesday afternoon at Denver Health Medical Center, said a hospital spokesperson. According to an e-mail from Lisa Underhill, Administrative Assistant for the Town of Berthoud and Ludwig's aunt, Ludwig underwent surgery Monday to repair three broken vertebrae to help stabilize his spine. However, according to Underhill, one of the vertebrae was crushed. He was scheduled to have a second surgery Wednesday to place screws in his spine.
The driver, Enrique Gutierrez Jr., 19, from Mancos, was pronounced dead at the scene by Eagle County Coroner Kara Bettis. Two other passengers, both of whom are also Mesa State students, Kathryn Ball, 20, of Evergreen and Corrigan Conroy, 20, of Grand Junction were also injured. Conroy, who like Gutierrez was wearing his seat belt, was transported to Vail Valley Medical Center with minor injuries. Ludwig and Ball, neither of whom were wearing their seat belts, were ejected from the vehicle. Both were transported to Vail Valley Medical Center and later to Denver Health. Ball remains in critical but stable condition, according to a hospital spokesperson.
Underhill said that Ludwig was assisted to an upright position Tuesday and walked to Ball's room and back. He was scheduled to be moved out of the Surgical Intensive Care Unit, said Underhill.
The 1991 Toyota 4Runner was traveling eastbound on I-70 near Gypsum at 2:55 p.m. when the right rear tire failed and Gutierrez lost control, Colorado State Patrol Cp. Dennis Gibbons said in a news release. The vehicle entered the medium and rolled two and half times. An investigation is ongoing, though the age of the worn-down tire is suspected to have contributed to its failure, Gibbons said.
Ludwig was a four-time state wrestling qualifier while at Berthoud High School and a two-time state placer. In 2008, he pinned Fort Morgan's Sam Sota in 5 minutes, 59 seconds to cap a 39-3 senior season. He was offered a wrestling scholarship to Mesa State, but according to the school's wrestling coach, Chuck Pipher, Ludwig hasn't been with the team since the first two weeks of school.
The accident is the latest in a series of tragedies that have stricken a current or former Berthoud High School wrestler in the past four years. Eighteen-year-old Kurtis Soeby was killed in an automobile accident in May 2005. Less than two years later in January 2007, wrestlers Tyler Carron and Nikko Landeros were pinned up against their car after being hit by a fellow classmate while they attempted to change a flat tire. Carron and Landeros lost both their legs in the accident. This past January, Staff Sgt. Justin L. Bauer, a former Berthoud High athlete and 2002 graduate, was killed while serving in Iraq.
News Image: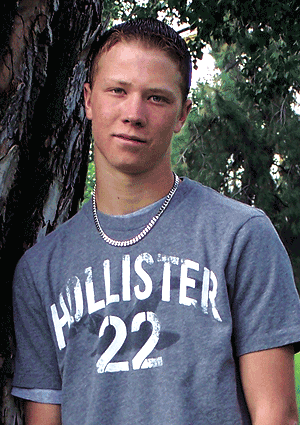 Long Description:
<p><span style="font-size: small;"><span style="font-family: arial,helvetica,sans-serif;">Nick Ludwig, who won a 4A state wrestling championship as a senior at 130 pounds, was in serious but stable condition Monday afternoon at Denver Health Medical Center.</span></span></p>
Category Lead:
Category Lead Story
Home Lead:
Home Page Primary Featured Story

Print This Post