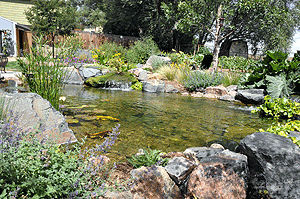 The husband-and-wife team of Michael Woods and Katie Woods put their considerable talents to work on their yard in south Berthoud. When they bought the house, the Woods were glad to have "just a bunch of grass and two trees" on which to create the garden of their dreams, with the help of Michael's landscape design colleagues. Word around the neighborhood is that baby frogs and the oversized koi in the pond attract children. Send your garden photos to Editor@BerthoudRecorder.com. Be sure to include details and identify all people in the photos.
Text by Jamie Folsom; photo by Gary Wamsley
---

Town Admin Search Stalled
By Shari Phiel
Berthoud Recorder
On Wednesday, Sept. 2, Berthoud's Interim Town Administrator Gary Suiter made the surprising announcement that two of the three finalists for the permanent position had pulled their names from consideration.
David Niemeyer, Village Manager for Oak Brook, Ill., and Anthony Mincu, town administrator for Farmington, N.H., pulled their names after Niemeyer worked out differences with his existing town council and Mincu accepted another position.
With only one candidate left, the Town decided to cancel the tours, interviews and public meet-and-greet sessions to be held that day and the following day, Thursday, Sept. 3.
The Berthoud Board of Trustees instead met during an executive session meeting on Thursday, Sept. 3 to consider how to proceed. The trustees decided to bring the remaining candidate, Frank Bell, the current Town Manager for Telluride, to Berthoud for an interview.
Bell spent two hours the following day in Town interviewing with the trustees. Berthoud Mayor Tom Patterson and Suiter also took Bell and his wife on a brief tour of the town.
"The board remains favorably impressed with Mr. Bell," said Suiter of the trustees following a discussion at a second executive session meeting on Tuesday, Sept. 8. "Negotiations are ongoing."
However, because Bell is also a finalist for a town manager role in another city, the trustees have decided to take a wait-and-see approach for now.
"We're all sort of cooling our heels at this point in the process," Suiter added.
The Board of Trustees decided to hold off on scheduling any further interviews with either Bell or other candidates until Bell's availability is decided. For now, going back to the list of candidates received during the application process is a "Plan B."
Although the trustees are eager to get the position filled with a regular, full-time employee, Suiter noted, "When you have an interim manager, it takes a little of the pressure off to jump and pull the trigger."
Category Lead:
Category Secondary Featured Story
Home Lead:
Home Page Lead Story

Print This Post