By Laurie Hindman
Berthoud Recorder

Seven "Talented and Gifted" (TAG) students from Turner Middle School participated in the Thompson School District's 6th annual photography workshop.
The students worked with renowned photographer, Bob Campagna, to create an exhibit entitled "New Perspectives on Colorado." Campagna has worked with the school district for the last eight years, teaching children to compose and develop meaningful photographs.
The students were selected for the photography course by application. Each student had to choose an interview subject in an area or field that interested them, conduct an interview, photograph their subject, write an essay about the interview and take photographs that related to the area of interest.
They spent a day visiting and photographing businesses and natural areas in Loveland, Estes Park and Rocky Mountain National Park. Another day was devoted to developing the negatives in the darkroom at Bill Reed Middle School. The students chose their best prints and then professionally mounted, matted and framed them for exhibition. The workshop culminated in a show and reception at Sage Moon Gallery in Loveland.
Carrie Bartmann, TAG teacher for Turner Middle School, said this year's group was "very outgoing."
"They are a lively, creative group of kids," she smiled.
Bright, creative minds were easily discerned in the students' work and they were happy to share their experiences.
This is the second Campagna workshop for seventh grader, Jo Buckley. Jo, who is interested in becoming a baker, interviewed Harry Schmidt, owner of Schmidt's Bakery in Loveland. One of her most striking pieces is a photograph of the jagged rocks of Devil's Backbone, with the faint image of glazed donuts super-imposed in the sky about the ridge.
"What I did was layer the negatives," said Jo. "I wanted something interesting to fill the white space above the rocks—the donuts worked well."
Nicole Silvers, a sixth grader participating in the workshop for the first time, shot a picture of a meadow and hillside in Rocky Mountain National Park. She did an overlay of a heart shaped shadow, created with her hands, that stretches across the field. "I love the Estes Park area and I wanted a way to show it, but have it look kind of natural."

Seventh-grader Hannah Nash said one of her favorite parts of the workshop was learning to compose a photo before pushing the shutter. "Bob [Campagna] helped us think about what makes a good perspective — to think about light, shadows and different angles."
Iona Kearney, another seventh-grader taking the workshop for the second time, interviewed a musician and said she tried to capture the feeling of music in her photographs. "Music can be soft and mellow or it can break out and surprise you."
Sixth-grader Jack Thorne, said he enjoyed working in the darkroom. "I never got to do it before. It was cool to learn how to develop a picture the way it was done before everything went digital."
Bartmann said the students worked hard and learned a lot, but credit for the success of the program is due to talent and dedication of Bob Campagna. "He does such a good job with the kids," she said. "We are grateful to have him year after year."
News Image: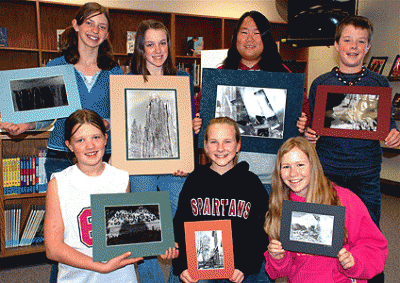 Long Description:
<p><span style="font-size: small;"><span style="font-family: arial,helvetica,sans-serif;">Seven students from Turner Middle School participated in the district&rsquo;s annual photography workshop, culminating in a reception at Sage Moon Gallery in Loveland. The talented young people also displayed some of their work in the Turner Middle School Library. Back row, from left, Anna Miera, Kenzie Keller, Iona Kearney and Jack Thorne. Front row: Nicole Silvers, Hannah Nash and Jo Buckley.</span></span></p>
Category Lead:
Category Lead Story

Print This Post