By Michael Hicks
Berthoud Recorder
If Mike King's looking for senior leadership to carry the Berthoud girls golf team this spring, he's going to have a hard time finding it. That's because the team doesn't have any seniors. But the Lady Spartans head coach isn't concerned. This year's team isn't lacking in potential.
With three players on a roster of 11 that he believes has the ability to make it to the 4A state meet and four players back from last year's squad, King says his team has the players to make some noise. Now it's just a matter of doing just that.
"We've got three girls I think have the ability to qualify for state. Whether or not we make that happen in seven weeks or not, a lot of things have got to happen and have got to happen well," King said.
One of those players is Stephanie Heaton. The junior, a regional qualifier last year with two years of varsity experience, like King, sees the team's potential.
"I think we're looking pretty good. We've got a lot of new people out. I think we'll be good this year," Heaton said. "Hopefully, we'll get some people to state."
To do that, Heaton said, the key may lie with the team's short game.
"I think we're hitting a lot better. We just need to work more on our short game," said Heaton, who returns this year alongside fellow returnees Amanda Cantu, Kacey Fagler and Jesalyn Emerson. "If we work on our putting and chipping, I think we'll do pretty good."
King and assistant coach Troy Diffendaffer are optimistic about developing the seven newcomers, but the focus is on the here and now.
GIRLS GOLF
Head coach: Mike King
Assistant coach: Troy Diffendaffer
Conference: 4A Northern Conference
Strength: Good mix of experience, talented underclassmen
Weakness: Lack of senior leadership
Quotable: "With golf, especially coaching high school golf, you've got to put the emphasis on right here and right now," King said. "Next year, you just never know. In golf, you've got to put all your planning into this year. It's only fair to the girls that the emphasis is right here right now."
ROSTER
Stephanie Heaton
Julia Perry
Amanda Cantu
Brandi Peter
Tiffany Cabela
Kacey Fagler
Jesalyn Emerson
Morgan Woodruff
Lucy Skrobacz
LeAnn Kleber
Alyxis Petty
SCHEDULE
March 23 Skyline Invitational, Fox Hill Country Club, Longmont, 10 a.m.
March 31 Skyline, Ute Creek Golf Course, Longmont, noon
April 6 Thornton Invitational, Thorncreek Golf Course, 8 a.m.
April 8 Mountain View, Mariana Butte Golf Course, Loveland, 1 p.m.
April 13 Broomfield, Eagle Trace Golf Course, 8 a.m.
April 17 John Birleffi Invitational, Boomerang Golf Course, Greeley, 9 a.m.
April 21 Roosevelt, Mad Russian Golf Course, Milliken, TBA
April 23 R2-J Invitational, Olde Course Golf Course, Loveland, 8 a.m.
April 30 Estes Park Invitational, Estes Park Golf Course, 1 p.m.
May 6 Regionals, Olde Course Golf Course, Loveland, 8:30 a.m.
May 18-19 4A state meet, Patty Jewitt Golf Course, Colorado Springs, TBA
News Image: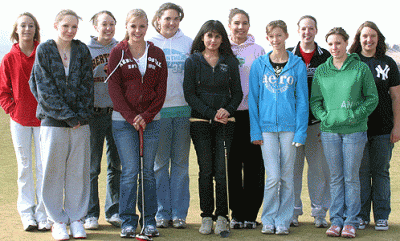 Long Description:
<p><span style="font-size: small;"><span style="font-family: arial,helvetica,sans-serif;">The girls golf team plays at Fox Hill in Longmont on Monday, March 23, at the Skyline meet.</span></span></p>
Category Lead:
Category Lead Story
Home Lead:
Home Page Secondary Featured Story

Print This Post