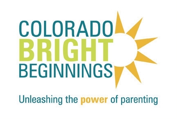 [1]
Eighty-five percent of a baby's intellect, personality and social skills are developed in the first three years of life. Every parent wants to provide quality learning experiences for their child.  Early parenting can be both amazing and challenging. Bright Beginnings promotes the importance of positive parent-child interactions and relationship building to give children the best start in life. You have the power to shape your child's future. We'll give you some simple ways to start. FREE!
Colorado Bright Beginnings is a statewide, nonprofit dedicated to promoting the healthy growth and development of children during the first three years of life. Bright Beginnings provides a framework of local support, child development, health/safety information and LearningGames to enhance brain development to parents who attend Bright Beginnings classes throughout Colorado.
In Larimer County, Bright Beginnings is sponsored by Poudre Valley Health System. The program is expanding into the Berthoud community through a local grant from the Doyle and Luvesta Frances Jones Fund of the Community Foundation. Bright Beginnings visits will be offered through small classes at the Berthoud Library or home visits.
Colorado Bright Beginnings is offering classes to parents of infants, one-year-olds, and two-year-olds at the Berthoud Library on Tuesday, March 29. Bright Beginnings staff will be providing an infant class at 9:00 a.m., one year old class at 10:00 a.m. and two year old class at 11:00 a.m. Children are welcome to attend with parents. Classes run 45 minutes. There is no charge for the class or materials, but registration is required.   Please call 970- 495-7528 to register.
As part of the Bright Beginnings packet, every family receives a book called LearningGames that is full of fun, developmentally-based activities to do with your infant or toddler along with a new board book. The toddlers receive an additional picture book while the infants receive a CD. Also included in the visit packets are booklets on development, growth, discipline, literacy/language development, health/safety topics, childcare and community resources.
To review Bright Beginnings materials given to parents at a visit, go to www.brightbeginningsco.org [2]. For more information regarding the Bright Beginnings or to register to attend an infant, one year old or two year old class at the Berthoud Library on March 29, call 970-495-7528.
[3]Bring baby and learn how nurturing interactions, a healthy/safe environment and playing games with baby supports brain and emotional development.

[4]Explore how thinking and interactions change as your infant becomes a toddler on the go.  Special emphasis will be placed on the relationships between language, emotional and cognitive development.  Toddlers welcome to attend with parents.

[5]Come learn about positive guidance strategies along with a continuing focus on an enriched, supportive environment that promotes early literacy, brain development, and a healthy/safe environment during the active two's.   Children welcome to attend with parents.