By Laurie Hindman
Berthoud Recorder
A hot cup of coffee, good books, free wireless Internet (wi-fi) and sleek black chairs with matching tables: You may be picturing Starbucks or the café at Barnes and Noble, but that charming "café" is just around the corner at your local library.
The Berthoud Library recently underwent a transformation thanks to the financial support of Friends of the Berthoud Community Library District and the design expertise of local resident, Ruth Gassner. The formerly beige foyer is now painted bold colors of burnt sienna and warm goldenrod. Against one wall is a small coffee table offering regular and decaffeinated, along with tall, bar-style table and chairs. The metal magazine exchange rack is now a black, shiny, wall mounted rack, easily organized and easily accessed by readers. New art adorns walls, and art that has been hanging on walls for years, such as the wooden wall sculpture of Colorado mountain ranges created by Linda Perkins, now "pops."
"It is a much more pleasant atmosphere," said Sara Wright, director of the BCLD. "We have had nothing but positive comments." Wright said patrons come with laptops to access the wi-fi, sending e-mails while sipping coffee and reading the paper. According to Wright the café area has also been popular with teens. "We are going through a lot of creamer," laughed Wright.
Wright said that a "huge thank you" is owed to the Friends organization and Gassner. "This was a very big volunteer undertaking and it looks fantastic."
For detailed information about the Berthoud Community Library District, including current hours, go to: http://Berthoud.COLibraries.org or call (970) 532-2757.
Category:
News – Community
News Image: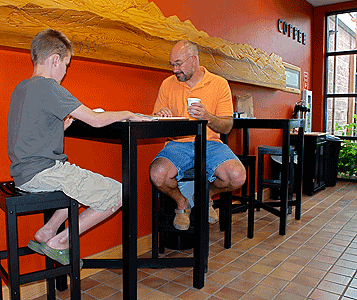 Long Description:
<p><span style="font-size: small;"><span style="font-family: arial,helvetica,sans-serif;">Ed Kisch enjoys a free cup of coffee at the Berthoud Community Library while reading books with 10-year old son, Jack. The library recently finished its renovations and now offers a relaxing place to enjoy coffee, books and free wireless Internet access.</span></span></p>
Category Lead:
Category Secondary Featured Story

Print This Post