Babies With Guns Continue to Shoot Themselves, Other Babies
By Bob Cesca · May 09,2013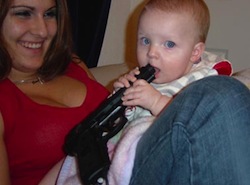 Rewind a few weeks and you might recall how a certified sociopath and right-wing bumper sticker author named Rep. Steve Stockman (R-TX) delighted in the creation of the following tweet: "If babies had guns, they wouldn't be aborted." He loved it so much that he turned it into a slogan and a bumper sticker for his re-election campaign. The obvious message: anyone who carries a firearm is invincible, and therefore if babies were packing heat, they could theoretically kill abortion doctors in self-defense.
Naturally, this is complete and utter gibberish.
Gun owners aren't invincible, of course. Statistically, people with a gun in the house, whether as a means of self-defense or otherwise, are more likely to be killed. Dave Waldman, aka KagroX, has been covering incident after incident in which idiot gun zealots have shot themselves or other people at Gun Appreciation Day events, at gun shows and during training classes. Furthermore, Stockman's ridiculous slogan not-so-subtly implies that killing abortion doctors is probably a good idea. It's no wonder why abortion clinics and doctors are the targets of domestic terrorism and homicides — it's all but endorsed by the conservative entertainment complex and Republican political leaders. And given how the firearm industry manufactures a variety of rifles designed for children, it's not a stretch to suggest that arming children is a goal of the NRA and the broader gun culture which it defends.
Perhaps I'm over-rationalizing Stockman's awful tweet and the subsequent bumper sticker, but when politicians at any level imply that it's okay to commit violence of any kind, especially with firearms, it can never be taken seriously enough. The very notion of an elected member of Congress even joking about the concept of children using firearms to kill other people is offensive almost beyond description — even more so considering how, in the weeks since Stockman's original tweet, numerous "babies with guns" have used guns to kill or wound themselves or the children and adults around them. For example:
UPDATE 2: Friday. May 10. Camden, New Jersey. 11-Year-Old New Jersey Boy Shoots 12-Year-Old In The Face
UPDATE: Thursday. Thursday, May 9. Corsicana, Texas. 2-year-old Texas boy shoots himself in the head with father's handgun
Tuesday, May 8. Houston, Texas:
Boy, 5, accidentally shoots brother, 7, in northeast Houston
Tuesday, May 8. Tampa, Florida:
3-Year-Old Fatally Shoots Himself With Uncle's Gun
Sunday, May 6. Indianapolis, Indiana:
Police: 4-year-old boy grabbed gun, shot himself in hand
Saturday, May 5. Oakland Park, Florida:
13-Year-Old Boy Shoots 6-Year-Old Sister In Florida


Print This Post