By Laurie Hindman
Berthoud Recorder
Foreign exchange student Nils Hansen said he felt nervous about starting at an American high school two weeks after arriving from Germany. The feeling only lasted about two hours into the first day of school. "People at home who had been to America said everyone is very friendly and open," said Nils.
"It was true. The first day people kept coming up and talking to me." The challenging part, said Nils, is remembering everyone's name. "I have made a lot of friends in the last two months."
Other than struggling with all the names, communication has not been an issue. "Language has not been a big obstacle for me," said Nils. "At first people had trouble understanding me because I was trying to talk fast like them. With my accent it was difficult. Now it is not a problem."
Nils has jumped into the American high school experience with both feet. He was a key member of the BHS golf team and the first Berthoud golfer to qualify for state. Nils golfed in Germany, but golfing was not offered during school. "School is very focused on education only," explained Nils. "To golf you must join something like a country club." He has also taken up baseball, although until a visit to Boondocks amusement center's batting cages in August, he had never swung a baseball bat before. "I just thought I'd try it and I really liked it," said Nils with a grin. He plans to try out for the baseball team in the spring.
Sports are not the only BHS activities in which Nils is involved. He will be performing the roles of Toynbee and an executive in the upcoming BHS play, "How to Succeed in Business Without Really Trying." Although he has never acted before he is a member of the men's acappella choir, Typecast, and was encouraged to try out for the play by choir and play director, Paula Latchaw. "It has kept me really busy, but it is so much fun," said Nils.
Tim and Kathy Beckius of Berthoud are the host family for Nils. They have a married daughter who lives in Pittsburgh, Pa., but no children at home. While Nils misses his family, he said the Beckius family has made him feel welcome and comfortable. "I have no brothers or sisters here, but they have a dog, Toby. He is like my little brother," laughs Nils. "He is a very cool dog."
Most of all, Nils misses his girlfriend who is also a foreign exchange student and is spending her school year in South Africa. "We can stay in touch on e-mail and sometimes talk, but it is not the same."
Still, Nils said he is happy he is here. "We are both having a very good time," said Nils. "When we see each other again we can share our different experiences."
News Image: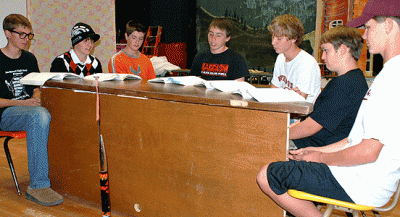 Long Description:
<p>German exchange student Nils Hansen practices his lines at the rehearsal for the upcoming BHS musical, &ldquo;How to Succeed Without Really Trying.&rdquo; From left, Joe Skrobacz, Nils Hansen, Jon Neuhalfen, Parker Owens, Nicolas Alexander, Sam Kleber and Aiden Colton.</p>
Category Lead:
Category Primary Featured Story

Print This Post