By Michael Hicks
Berthoud Recorder
LOVELAND — All Nils Hansen needed to advance to next month's 4A state golf championship was for his birdie attempt to fall. It didn't. Then all he needed was his follow-up par putt to fall to stay alive. That didn't happen, either.
In a matter of seconds Tuesday the German exchange student went from being the first Berthoud High boys golfer to qualify for state to wondering what could've been at the Northern Regional tournament at Mariana Butte Golf Course.
The junior's 10-over-par 82 turned out to be good enough to qualify him for a six-person playoff for the final two spots at the 4A state tournament, scheduled for Oct. 5-6 in Littleton. His tee shot on the first playoff hole and follow-up approach put him on the cusp of the green. Hansen then chipped to within 10 feet to set up a state-clinching birdie attempt.
When that shot rolled six feet past the hole it left Hansen with a par putt to force a second playoff hole. When that shot missed out, it left him pondering what if.
"I didn't have a really good feeling about it. I saw a bad break, but I didn't make it," Hansen said of his birdie attempt. "(Then I) saw the same break back and I putted like that, too hard, and it lipped out."
Hansen wouldn't have had the playoff opportunity in the first place if not for a pair of disqualifications that forced Longmont's Jared Mannett (74) and Niwot's Tyler Winslow (75) out of contention for state. But errors by both on their scorecards and a third DQ opened the door for a playoff.
Unfortunately for Hansen, it will be Broomfield's Zach Thoutt and Longmont's Niko Marcos going to state after Tuesday's playoff.
Fellow BHS junior Nick Monchak, who a year ago shot an 85 at Fort Morgan to miss qualifying for state by five strokes, shot an 83 this year –– one shot off the playoff-qualifying 82 that Hansen and five others shot.
While it was nice to perform better, Monchak would've rather had a state berth instead.
"There were some shots out on the round that I should've had. They were easy shots, but I didn't concentrate. I should've taken my time. I would've been in this playoff or already in state by now," Monchak said.
With Luke Whitfield shooting a 96 for the second straight year and Jesse Sommers following with a 104, Berthoud finished with a 261 team total. That was good enough for 13th in the 17-team field. Silver Creek took team honors with a 230, led by freshman Jack Adolfson, who fired a 2-under 72 in blistery conditions to be named the tournament's top medalist.
But for Berthoud, this year's regional tournament will be remembered for how close the Spartans were in getting to state.
"We were right there, but that's just on paper. We have to go out and perform on the golf course just like the other 80 whatever kids," Spartans head coach Mike King said. "We got close, but close doesn't feel real good right now."
---
4A Northern Regional Golf Tournament
Tuesday, Mariana Butte Golf Course, Loveland
Par 72, 6,632 yards
TEAM SCORES: Silver Creek 230, Fort Morgan 237, Fossil Ridge 238, Greeley Central 238, Greeley West 242, Broomfield 244, Northridge 247, Sterling 247, Niwot 251, Thompson Valley 255, Windsor 255, Mountain View 259, Berthoud 261, Skyline 262, Longmont 271, Frederick 281, Roosevelt 305

INDIVIDUAL STATE QUALIFIERS: Jack Adolfson, Silver Creek, 70; Nash Bledsoe, Fort Morgan, 72; Michael Lee, Greeley Central, 72; Kyle Gertner, Sterling, 72; David Oraee, Greeley West, 74; Zach Greene, Fort Morgan, 76; Cameron Harding, Northridge, 77; Tim Taylor, Fossil Ridge, 78; Marc Shirazi, Northridge, 78; Ryan Burke, Silver Creek, 79; Nathaniel Goddard, Fossil Ridge, 80; Matthew Goddard, Fossil Ridge, 80; Josh McLaughlin, Thompson Valley, 80; Nicholas Reisch, Broomfield, 81; Ryan Schwark, Broomfield, 81; T.K. Coady, Niwot, 81; Dylan Wonnacott, Silver Creek, 81; Zack Thoutt, Broomfield, 82; Niko Marcos, Longmont, 82
STATE ALTERNATES: Austin Geuke, Windsor, 82; Jacob Ehrlich, Greeley Central, 82
ELIMINATED IN PLAYOFF: Nils Hansen, Berthoud, 82; Jake Fitzgerald, Windsor, 82
OTHER BERTHOUD SCORERS: Nick Monchak, 83; Luke Whitfield, 96; Jesse Sommers, 104
News Image: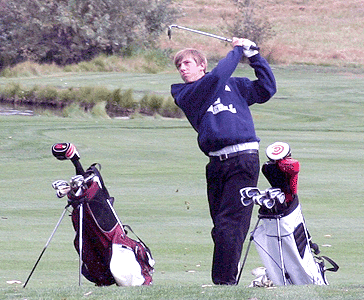 News Image: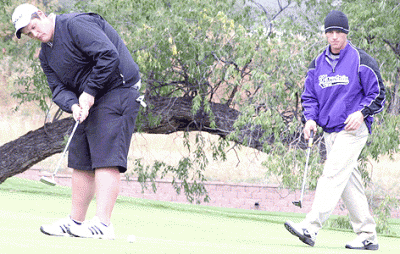 Long Description:
<p>Luke Whitfield shot a 96 for the second straight year at regionals.</p>
Long Description:
<p>BHS junior Nick Monchak shot an 83, one shot off the playoff-qualifying 82 that Nils Hansen and five others shot.</p>
Category Lead:
Category Primary Featured Story

Print This Post