That was the theme for the Ivy Stockwell First Grade Showcase on Thursday night. For the parents the program started of with the musical performance of numbers like Shakey Shakey Egg, Puddle Hoppin' and Worms. Music and Movement Director Mark Johnson had the kids hopping and jumping with these songs and it looked like they loved it. The 42 voices of the first grade harmonized well and the parents and grandparents were delighted with the performance.
Following the musical numbers the children took their parents see their art work and to visit their classroom. The showcase theme of spring allowed the students to draw animals and insects and to write about them. All the art, music and classroom work complement and reinforce each other.
Ms. Ellis had her parents writing letters to the children and she collected them and put them in the "Post Office" for delivery in the morning. She too was impressed by the musical prerformance. "They practiced a lot, had a great selection of songs and did an awesome job," she said.
Ms. King's class has been learning about non-fiction reading and writing. The children had written their own non-fiction stories. "They write about friends, family and things like the insects we have been studying," King said.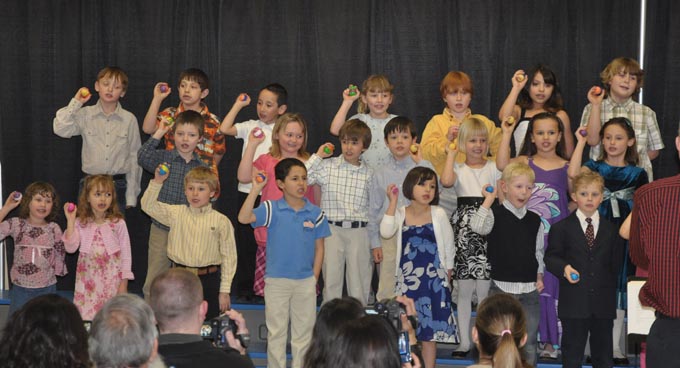 The first graders at Ivy Stockwell are shakin' their egg in time to the music
The Stars of the Show
Terra Mireles, Garrett Morali, Mariah Ormsbee, Eliana Paradise, Maxwell Payne, Erin Preusse, Jackson Pygott, Ailyn Rodriguez Martinez, Tyler Rotar, Parker Sawyer, Jason Schloemer, Beau Schnackenberg, Zakary Smith, Aidan Stewart, Kolten Strait, Eleanor Tow, Ashton Williams, Kylie Youngblood, Morgan Baker, Oscar Baker, Emily Berryman, Tyler Brooks, Benjamin Casper, Arabella Corbett, Katelyn Croft, Jamie Dellwardt, Kylee Densborn, Jade Embree, Salvador Erives Varela, Macy Fitzgerald, Elijah Greenslit, Gabrielle Gudino, Aiden Hajdas, Logan Hess, Kysa Keck, Cree Kelchner, Ariel Khan, Aspen Kilde, Jared Lee, Madison Magrum, Joe Malinowski, Sidda May,
4373

Print This Post