By Dani White
Berthoud Recorder
"Incorruptible: A Dark Comedy About The Dark Ages," is a lively and humorous parody, lampooning the overly corrupt dealings of a French monastery in the vice-ridden hey-day of the Middle Ages. This farcical comedy pokes fun at the ridiculous lengths that even the holiest clergymen go to order to survive and profit in those bleakly insolvent times.
The playwright, Michael Hollinger, weaves a story that is loosely based on actual events during a period of social and cultural decline. The fact that people actually peddled corpses and other relics during the darkest times of the medieval era is shocking. It is also part of the reason why religious relics, including separate parts of various holy saints and martyrs can be found scattered throughout Europe. During the Dark Ages, when most common people were afraid to even leave their homes or didn't have the financial capability to do so, relics were as good as gold. People would make pilgrimages to see any holy relic that was simply rumored to have healing or plight-resolving qualities.
With this historical reference in mind, Hollinger focuses his plot on a dilapidated 13th century monastery in Priseaux, France that houses the relic bones of Saint Foy. The abbey's patron martyr hasn't performed a miracle in over a decade and to top it off a rival church claims to have the actual miracle-working relics of their patron saint. When all seems desolate for the monks, a traveling minstrel performer comes to their rescue. He masterminds a disturbingly imaginative revenue gaining operation of selling "relic" bones, which really come from the churches cemetery (hence the origination of identity theft).
The show is entertaining, witty and deliciously dark humored. "Incorruptible" definitely keeps the audience in constant laugh out loud mode. The entire cast is extremely talented and each individual character works well as a part of a comic ensemble. The lively production satirizes how easily morals can be swayed with money in desperate circumstances, but the final message also emphasizes the power and purpose of keeping faith.
Showtimes: Sept. 18, 19 at 7:30 p.m. and Sept. 20 at 2 p.m. at the Rialto Theater, 228 E. 4th St., Loveland. Tickets: Rialto Box Office at 970-962-2120. Group rates available.
News Image: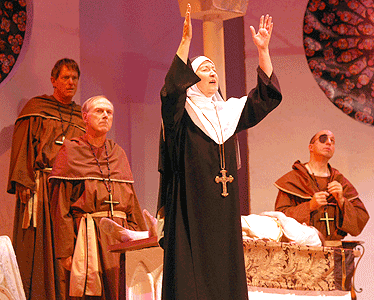 Category Lead:
Category Lead Story
Home Lead:
Home Page Primary Featured Story

Print This Post