Another Cool Hardy Plant
By Betsy Kelson
Jared's Nursery & Garden Center
SPRING IS HERE!!! Well, at least it is according to the calendar. And color starved gardeners of the Front Range can start creating or adding to their flower gardens and containers now.
This spring, be on the lookout for Dianthus F1 Polar Coral. Voted Best DIANTHUS in 2009 at the Colorado State University Trial Gardens in Fort Collins, this dianthus survived the three hailstorms suffered by the area last summer. Polar Coral has the great cold and frost tolerance that one expects out of this family as well as its spicy fragrance. Polar Coral also does well under warmer conditions so it may bloom all season, not just in the spring. The 1-½ inch flowers, with the pinking shear edges, will grow 8-12 inches tall.
Dianthus Polar Coral is a robust plant with a compact, uniform branching habit. With bright green foliage and coral pink flowers, it will look wonderful tucked in with those white or pale blue pansies that have been a mainstay of your winter garden. Or plant it with white alyssum or white dianthus in containers to brighten your front porch or patio containers.
Many of your local independent garden centers have been slowly rolling out cold and frost tolerant annuals that you have been using for years. Don't forget about these tried and true favorites. Pansies, of all colors, dusty millers, white, purple, and rose alyssums, fragrant white, cream, and pale blue nemesia, yellow, white, and purple osteos, and dianthus of many colors have been jumpstarting spring gardens for years. So now it is time to stop by your local independent garden today.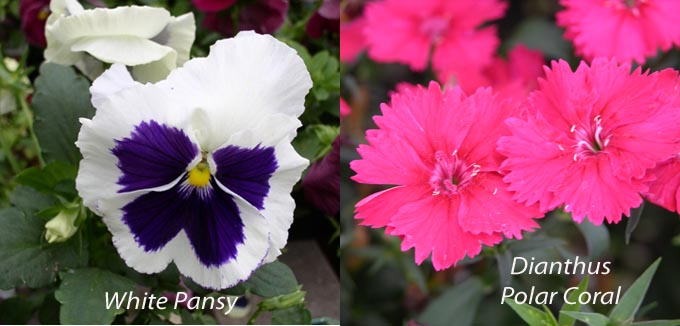 Height 8-12 inches
Width 8-12 inches
Sun to part shade
Main characteristics tight habit for front to middle of borders
Use for containers or flower bed borders

Print This Post