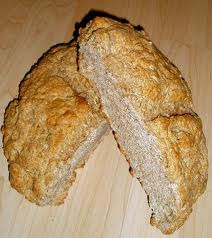 Celebrate St. Patrick's Day with Recipes from the Colorado Wheat Administrative Committee
It's not a St. Pat's Day celebration without Irish Soda Bread on the table. Interestingly, Irish soda bread has taken on a life of its own with a variety of recipes containing numerous ingredients the original bakers in the mid 1840's would have never heard of, let alone had on hand. Contrary to popular folklore, Irish soda bread did not arrive in the U.S. during the Ireland famine years – it came years later.
The Society for the Preservation of Irish Soda Bread (SPISB) (www.sodabread.info ) stresses that traditional soda bread contains only four ingredients, does not keep very long and has to be made every few days. The four ingredients are flour, baking soda, sour milk/buttermilk and salt.
Traditional Irish soda bread does not contain whiskey, candied fruit, chocolate, orange zest, yeast, caraway seeds or raisins. The SPISB recommends using soft wheat flour – either pastry flour or cake flour, which is similar to what the Irish used. However, according to Sara Olsen of the Colorado Wheat Administrative Committee, if neither are available, all-purpose flour will work. A Dutch oven is excellent for baking, but if you don't have one, use a cast iron skillet and cover it with a cake pan during baking OR use two cake pans – one for the dough and one for a cover during baking.
One recommendation is to not cut the bread until it has set – or about six hours. But let's be "real." How many people can let fresh bread wait six hours before tasting?
Here are two Irish soda bread recipes, one traditional and one "Americanized." Try them both and see which you prefer.
Traditional Irish Soda Bread
Makes 1 loaf
1 cup buttermilk
1 teaspoon baking soda
1 teaspoon salt
4 cups flour (pastry, cake or all-purpose)
Combine buttermilk, soda and salt in a large bowl. Add enough flour to make a sticky dough. On a floured surface, knead lightly. Shape into a round flat form to fit into a greased, cake pan (or cast iron skillet or Dutch oven); cover lightly with non-stick spray. Using a sharp, serrated knife, cut a cross on top of the dough.
Cover with another pan (or lid to the Dutch oven) and bake 30 minutes at 400 degrees F. Remove cover and bake an additional 10 minutes or until nicely browned. Watch very closely to make sure the top of the bread doesn't get too dark. If it is browning too quickly, cover with aluminum foil. The bread will sound hollow when it is done. Cool on a baking rack. Cover with a damp kitchen towel to keep the bread moist.
Non-Traditional Irish Soda Bread
Bread Machine Recipe
(can be made by hand using the same ingredients)
1 cup buttermilk
2 tablespoons butter, softened
1 teaspoon baking soda
2 teaspoons sugar
1/3 cup raisins, softened in water
3 cups bread flour (can use half whole wheat flour)
1 tablespoon gluten (optional)
1 package dry active yeast
Combine ingredients in the above order in the bread machine. Select "dough" setting. Push start and remove when the cycle is completed. Remove dough and shape into a round flat form that will fit into a large, greased Dutch oven, cast iron skillet or cake pan. Coat lightly with non-stick baking spray and cover loosely with plastic wrap. Let rise until double in size. Using a sharp, serrated knife, cut a cross in the top of the dough and place another pan or lid on top and bake in a 400 degree oven for 25 min. Remove the pan and reduce the heat to 350 degrees for another 10 min. Watch closely to make sure the top does not get too brown. When the preferred color is achieved, cover with aluminum foil to prevent further browning.
Remove bread and put on a rack to cool. Cover loosely with a damp kitchen towel and wait 6 hours to cut it if you can.
Happy St. Patrick's Day!!

Print This Post