By Dani White
Berthoud Recorder
Song, dance and murder. "Curtains: The Musical Comedy Whodunit," leaps directly from the Broadway stage to the Rialto Theater in a single bound. "Curtains" is Up In Lights Productions' latest offering.
The Loveland-based company has gained first rights to the new comedy and the regional premiere will begin the fourth weekend in October. "Curtains" was nominated for eight Tony Awards including, Best Musical and Best Original Score. The score is the final creation of the remarkable dynamic duo, Kander and Ebb, responsible for the respectively innovative dark horse successes "Chicago" and "Cabaret."
While "Curtains" bears a softer side with a spirited comical approach, it is not entirely without intrigue. The show cleverly plays on its murder angle in a satirically lighthearted way. This new comedy is set backstage in Boston's Colonial Theater during the late 1950s. A theater troop performs a new musical, with the trappings of a Broadway sensation, but their downfall is an inept leading lady who sinks the show on the opening night. The wry upshot occurs when the untalented amateur bites the dust at curtain call the same evening.
An offbeat murder mystery commences, complete with an investigative Boston Police Lieutenant ironically more interested in helping the show to go on than hastily solving the murder. The detective puts the cast on lockdown in the theatre and the flop evolves and the murders continue. "Curtains" appeals most to those who love production.
One cast member, Angela Johnson, describes the play as "a love letter to musical theater." A 23-member cast, with backgrounds spanning from Fort Collins to Boulder, includes many college students as well as members of the community. This impressive production, developed in a few months' time, is rife with entertaining numbers, twists and amusing mystery that will keep the audience guessing.
"Curtains: The Musical Comedy Whodunit"
Where: The Rialto Theater, 228 E. Fourth St., Loveland.
When: Oct. 23, 24, 30 and 31 at 7:30 p.m. and Nov. 1 at 2 p.m.
Tickets are available at The Rialto box office, 970-962-2120 or www.UILProductions.com.
News Image: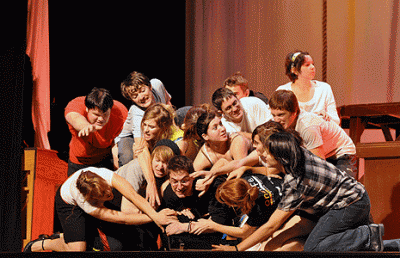 Category Lead:
Category Secondary Featured Story

Print This Post