Faith Christian 5, Berthoud 0
By Michael Hicks
Berthoud Recorder
ARVADA — If the Berthoud Spartans learned anything from Saturday's boys soccer game with Faith Christian it is that they know what to expect the next time around in the 3A state tournament. They also know they must play a more physical game.
The host Eagles used their size to score a 5-0 victory in a game that was postponed three days due to last week's snowstorm. Cameron McCaslin scored two goals — one off a header and another on a 25-yard blast — and Faith Christian blew the game open with four second-half tallies.
The game was 1-0 at halftime after Liam Noone scored on a crossing pass from Mitchell McCain in the 16th minute. That's where things stood before McCaslin, a sophomore midfielder, started a flurry that led to three Faith Christian goals over the next 21 minutes. Solomon Cowles added a penalty kick in the 57th minute, and McCaslin scored his second of the game in the 68th minute.
While Berthoud never seemed to get in sync offensively, producing just two shots on goal, it was the Spartans' lack of size, according to head coach John Barron, that hurt them the most.
"I think it's just a matter of a bigger-size team willing to utilize that strength of their team. They were able to push us off the ball and push us over," Barron said. "We're a bit of more of a finesse team. I've tried to get the boys to play a little more physical all season long, try to prepare them for this by playing some 4A teams that were really strong so they'd know what would be coming in the playoffs, but we just don't have the size. So if we can't do it with finesse and we start playing their game, that's eventually what happens. We're getting pushed around, and we react back; and they got the call because we are reacting."
Faith Christian, which outshot Berthoud 11-2, added a final goal when Adam Finnefrock booted the ball in after a scrum in front of Berthoud goalkeeper Alex Hughes. The Berthoud junior made six saves in his first playoff start.
The Eagles (10-4-2), the tournament's 10th seed, won the rights to host Roaring Fork in the second round after the 26th-seeded Rams upset seventh-seeded Kent Denver 2-1 on Friday.
The loss ended Berthoud's season at 7-8, but the Spartans are hopeful that a second-straight playoff appearance will lead to more success down the road.
"We had some good numbers this season. That's really exciting," Barron said. "Hopefully we can build the program from that now that we have the players that have the experience. They know what to expect."
---
FAITH CHRISTIAN 5, BERTHOUD 0
BERTHOUD 0 0— 0
FAITH CHRISTIAN 1 4— 5
FC — Liam Noone (Mitchell McCain), 16th minute
FC — Cameron McCaslin (Adam Sanders), 47th minute
FC — Solomon Cowles (PK), 57th minute
FC — McCaslin, 68th minute
FC — Adam Finnefrock (Sanders), 79th minute
SHOTS ON GOAL: Berthoud 2; Faith Christian 11
SAVES: Berthoud — Alex Hughes 6; Faith Christian — Hayden Loudenslager 2
CORNER KICKS: Berthoud 3; Faith Christian 5
FOULS: Berthoud 21; Faith Christian 13
OFFSIDES: Berthoud 0; Faith Christian 2
News Image: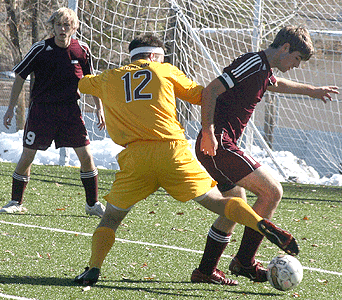 Long Description:
<p><span style="font-size: small;"><span style="font-family: arial,helvetica,sans-serif;">The loss ended Berthoud&rsquo;s season at 7-8, but the Spartans are hopeful that a second-straight playoff appearance will lead to more success down the road.</span></span></p>
Category Lead:
Category Primary Featured Story

Print This Post