Berthoud Recorder staff
Katie Beckvermit, Sarah Kemp and Dusti Waite dropped just three games combined as Berthoud's girls tennis team won its second consecutive match without giving up a set, this time 7-0 over Fort Morgan on Thursday at Berthoud High School.
Waite didn't surrender a single game in a 6-0, 6-0 win over the Mustangs' Jennifer Fernandez. The No. 4 doubles tandem of Jenny Raak and Kate Essig also scored a 6-0, 6-0 victory, this time over Karrie Stroh and Hailey Ledsoc.
Other winners for Berthoud included the doubles teams of Sarah Pilkington and Kara Godebu, Maya Lindgren and Jessica Mulder and Alicia Lentz and Cindy Davis.
BERTHOUD 7, FORT MORGAN 0
Singles
No. 1: Katie Beckvermit (B) def. Torrie Kerf, 6-1, 6-1
No. 2: Sarah Kemp (B) def. Trista Karas, 6-1, 6-0
No. 3: Dusti Waite (B) def. Jennifer Fernandez, 6-0, 6-0
Doubles
No. 1: Sarah Pilkington/Kara Godebu (B) def. Marcia Dendelos/Laticia Fargas, 7-5, 6-3
No. 2 : Maya Lindgren/Jessica Mulder (B) def. Nicole Karas/Macey Shocke, 6-1, 6-4
No. 3: Alicia Lentz/Cindy Davis (B) def. Deseree Fernandez/Nicole Meininger, 6-1, 6-3
No. 4: Jenny Raak/Kate Essig (B) def. Karrie Stroh/Hailey Ledsoc, 6-0, 6-0
GIRLS SOCCER: Niwot's Offensive Onslaught in 2nd Half Too Much for Berthoud
NIWOT — Senior midfielder Lauren Shaner scored two goals and Niwot had seven different goal scorers in a 9-0 win over Berthoud.
The Lady Spartans (3-4-1) trailed last year's 4A state runner-ups 2-0 at halftime, but the host Lady Cougars (7-0-1) scored seven times over the final 40 minutes.
"We gave up a goal early in the second half and lost our composure and our organization in the middle of the half when most of the goals were scored," Berthoud head coach Jeff Benjamin said. "We needed more of a team effort to hold off the Cougars and we just didn't have it consistently."
NIWOT 9, BERTHOUD 0
Berthoud 0 0—0
Niwot 2 7—9
Goals: N — L. Shamer 2, K. Miller 2, K. Thompson, M. Gradoz, J. Schira, L. Ostrom, K. Buck
Saves: B — Lydia Munoz 8
GIRLS GOLF: Heaton Fires Season-Low 96 at Mariana Butte
LOVELAND — Junior Stephanie Heaton shot a 96 on Wednesday, her lowest score of the season, during Wednesday's Northern Conference girls golf meet at Mariana Butte. She parred three holes on the front nine.
BASEBALL
Silver Creek 11, Berthoud 6
News Image: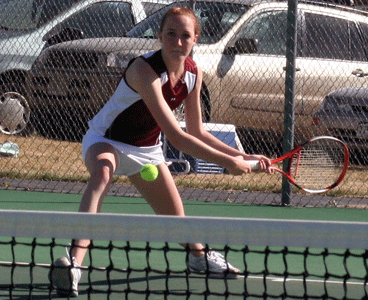 Long Description:
<p>Berthoud's No. 1 singles player Katie Beckvermit dropped just two games in a straight-set win Thursday over Fort Morgan's Torrie Kerf.</p>

Print This Post