The game got off to a slow start as both teams had possession and failed to make a hoop. Wikre got to an open, missed the layup but followed shortly with a 3-pointer to put the Spartans up 3-0, Skyline came right back with two points. Ekart put Spartans at five with a steal and solo basket.
The Falcons came back to take a 5-6 half way through the quarter. Berthoud had several opportunities but was unable to hit the basket. It looked as though the lowly ranked Falcons were going to make a game of it but Ekert added 6 points and Wikre 2 as the Spartan led 13-6 at the end of the quarter.
The Spartans widened their lead in the second period as Wikre hit another 3-pointer, Kacey Fagler made two free throws, Megan McGinn and Stephanie Heaton each added a basket and the locals were ahead 22-6. The Spartans at times went in to a full court press and frequently came up with the ball in their court. With a strong defense and scoring by Ekart (6), Fagler (5), Wikre (4) and Perry (2), the Spartans went to the locker room with a comfortable 39-11 lead.
With nothing to lose by trying, the Falcons came to the second half with a very aggressive defense and offense. The result was that Berthoud only scored 11 points in the entire second half as they missed a high percentage of their shots. Fortunately, Skyline was not much better but managed to close the gap slightly by scoring 18 points.
The girls will play Fossil Ridge on Tuesday, Feb. 16. This will be a home game.
Box Score
Berthoud    13 – 26 – 6 – 5  50
Skyline         6 –  5 –  9 – 9  29
3305_wikre-misses-this-shot-but-makes-a-3-pointer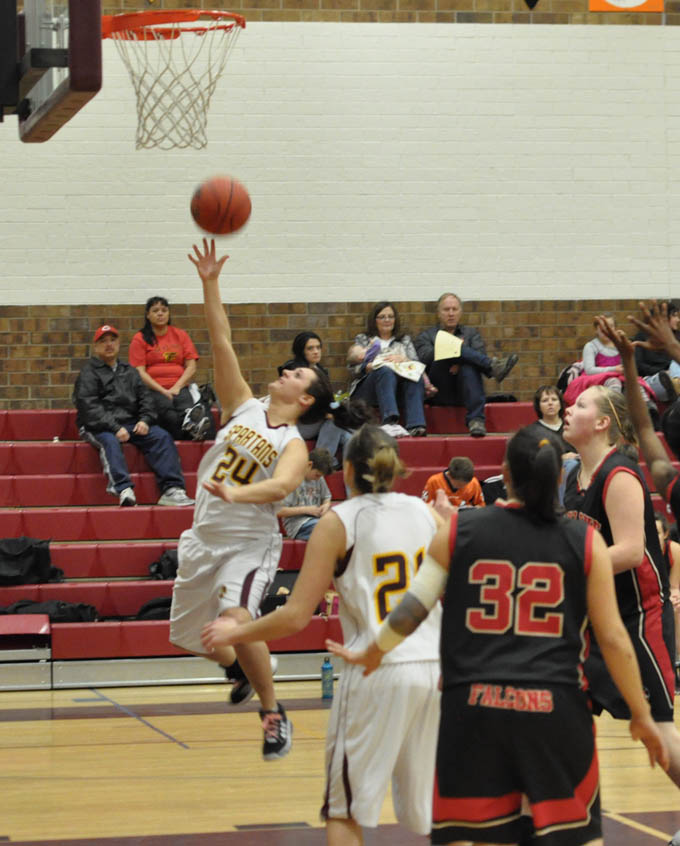 Print This Post