Public Star Night at the Little Thompson Observatory
850 Spartan Ave at Berthoud High School
(park east of the high school; directions are posted on www.starkids.org).
Friday, June 21, 2013
7:00 – 11:00 PM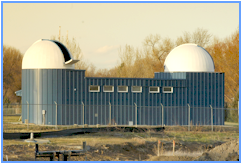 The guest speaker is Suzanne Metlay, faculty member at Western Governors University, and the title of her talk is "Tides In & Out of the Solar System".
Imagine tides without water and see the effects of tidal forces throughout the cosmos. Tides are the result of gravitational interactions and they create some of the most beautiful structures in space. Please join Suzanne Metlay for a lively discussion of these lovely, ever-changing features in and beyond the solar system.

Suzanne Metlay is full-time faculty in Geoscience Teacher Education at Western Governors University, a fully online non-profit university founded in 1997 by 19 governors of western states, including Colorado.
Suzanne previously taught astronomy and geology at Front Range Community College in Longmont and Fort Collins, was Operations Director for Secure World Foundation in Superior, and served as Education Programs Manager at CU-Boulder's Fiske Planetarium.
The doors will open at 7:00 pm and the presentation will start at 7:30 pm. After the presentation (weather permitting), visitors will be invited to observe various celestial objects through the 6" Astro-Physics Refractor, and 18" Tinsley and 24" Cole Reflector telescopes.
Public star nights at LTO are held the third Friday of each month (except July, when the LTO is closed for annual maintenance). No reservations are necessary for these nights. Just come and join in for the talk and some observing afterwards.
If you have any questions, please call the observatory information line at 970-613-7793 or check the LTO web site at: www.starkids.org
Public Star Nights at the Pioneer Museum, 224 Mountain Avenue in Berthoud, home of the historical 6" Brashear Refractor from John Bunyan, are held on the first Friday of each month. If you have any questions, please call the Bunyan observatory information line at 970-532-2147 or check the museum web site at: http://www.berthoudhistoricalsociety.org/bunyan.htm

Print This Post