By Sandy Barnes
Berthoud Recorder
Strategic planning and using social media to reach people were among key topics marketing experts addressed during a seminar at the Brookside Garden Event Center Friday, July 10. The seminar sponsored by Downtown Colorado, Inc. focused on ways to promote towns and attract people to them.
During her presentation, Katherine Correll, executive director of Downtown Colorado, Inc., said that to be effective in promoting communities, their leaders need to identify assets and develop unified image campaigns. Special events designed to bring people to town need to have music, food, overlapping activities for all age groups and offer something free to be successful, she said.
Developing a plan and identifying the purpose of an event is essential to effective marketing, said Cindy Kerr of ckarma Marketing while speaking to representatives from several Colorado towns, including Berthoud. "Are you attracting the audience you want to attract?" Kerr asked the group. "Begin with a purpose, identifying who your audience is," she said. "Start with a vision."
By identifying the values and interests of people in a given place, events could be planned to attract them, Kerr said. As an example, she said that in Crested Butte there are adults with kids who like socializing in an outdoor environment. An event called "Beer with Beethoven" was created, which was well received, she added.
In Berthoud where there is an interest in history and a vintage base ball club, targeted marketing could be done around that, Kerr suggested.
Developing key messages a town sends that are true reflections of its attributes is also critical, she said. If Berthoud is promoted as a safe place where families can live peacefully, then there needs to be data to back up that claim, Kerr cautioned.
Kerr and two other speakers, Eric Ervin and Recca Larson of the City of Littleton's Business/Industry Affairs Department, emphasized the importance of using social media for marketing communications. Setting up user-friendly Web sites that encourage participation and using interactive media such as Twitter, Facebook and LinkedIn is what Larson described as "new world marketing" in which "people see you more as a friend."

"It can be overwhelming," Larson said. "But you risk a great deal by ignoring social media." Twitter, which offers instant messaging via cell phones, is exploding in use, with 1,382 percent growth in the past year, she stated. And Facebook with its 35-54 year-old demographic grew 276 percent in the last six months, Larson added.

At the end of the seminar, Eric Boyd, Berthoud Main Street Program Director, talked to the group about promotions his program oversees, including the Town's farmers market. "The historical society in Berthoud is incredibly strong," Boyd added while discussing events tied to promoting the Town, including the annual home tour and calendar fly-in with vintage airplanes. The Town's observatory, museum and parks also are attractive elements of the Town, he remarked.
Category:
News – Business
News Image: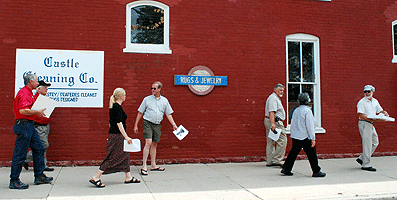 News Image: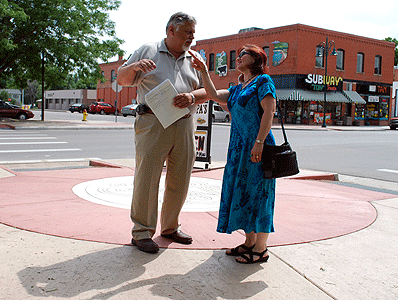 Long Description:
<p>Tom Vaughan, far right, Little Thompson Valley Pioneer Museum director, leads seminar participants on a tour of downtown Berthoud.</p>
Long Description:
<p>Mary Bahaus-Meyer of Loveland talks with Meinte Veldhuis, president of the Little Thompson Observatory, during the tour of downtown Berthoud.</p>
Category Lead:
Category Lead Story

Print This Post