"We're happy to get the rain, but after four weeks you think, 'just give us 10 days so we can get it cut,' but no," he said.
By this time in July, most sage buck and some alfalfa crops are ready for their second cutting, but rain has delayed the normal cycle, and much of the area's first cutting lay in windrows for over a week. "This first cutting is not dairy quality," Honstein said. "There is some food value in there, still some green stems and leaves."
But the bottom line is prices are down as a result of the quality. Sale prices to hog farms are nearly half of expectations at a reported $45 per ton, according to Honstein, who has managed to find local buyers at a better price. But the season is definitely an overall disappointment, which he takes in stride.
"There will probably be no fourth cutting before the first frost this year, but we'll see," Honstein said. "It could change… Mother Nature doesn't always cooperate."
Category:
News – Business
News Image: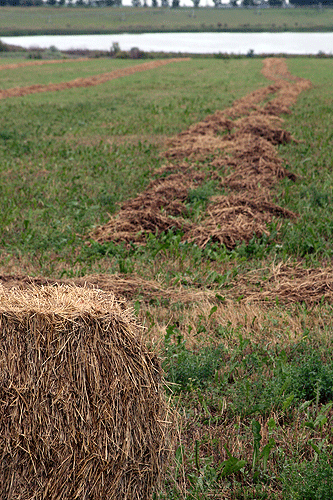 Long Description:
<p>Rows of cut hay lay out to dry before bailing in this First Street field in Berthoud. Owner Anna Mary Phillips said, &ldquo;Mother Nature dictates. You work hay when you can.&rdquo;</p>

Print This Post