By Lizzy Scully
Berthoud Recorder
Though it may seem daunting for those who have never tried it, making your own natural makeup using minerals and natural and organic ingredients can be a fast and easy way to sustain the environment while at the same time ensuring you don't put harmful chemicals on your body. Natural makeup makes for a great gift, and once you get the hang of it and build a base of ingredients, you will save money as well.
The first step is to figure out exactly what sort of makeup you would like to make: eye shadow, blush, lipstick, etc. Plenty of "how to" books and Web sites with detailed recipes are available, or you can start with some of the simple recipes included later in this article.
Next, figure out and purchase the ingredients you will need. There are hundreds to choose from and dozens of online companies that sell everything you need. The ingredients you choose depend on what type of makeup you decide to make. For blush and eye shadow, you will need powders and fillers, such as: cornstarch, a silky, corn-based powdery starch that absorbs body moisture and oil and is also used as a thickener; silk powders, which are silk proteins that cannot be dissolved into water and are therefore a great filler base for any powder formulations of mineral makeup; white kaolin clay, which is not only high in calcium and magnesium, but also has excellent natural absorbent properties; and bismuth oxychloride, a fine, white powder that adds luster and smoothness.
You will also need a variety of colors. One of the more popular ways to color makeup is by using pearlescent micas – tiny color-coated pieces of a silica mineral that occurs in igneous and metamorphic rock. Because the silica mineral reflects and refracts light, the micas provide color and sheen to loose mineral makeup such as eye shadows and blushes and also to lipsticks. There are unlimited color combinations, and the various sizes of the mica particles affect the sheen of the mineral.
For lip balms and lipsticks, you will need a variety of oils. Babussu and coconut oils, for example, penetrate the skin rapidly and do not feel greasy, while sweet almond oil leaves the skin feeling soft and smooth. Beeswax is often used because it retains moisture, it sooths and softens the skin, and it helps the lipstick or balm have staying power. Various color options are available for lipsticks, from beetroot juice to natural iron oxides, and other earth-based materials.
People choose natural and organic ingredients for a variety of reasons. Some want to avoid putting harmful chemicals on their skin, while others want to be more environmentally conscious. Avoiding petroleum-based products ensures a lower carbon footprint, for example. Plus, research show that some petroleum-based additives are unhealthy. One such additive is propylene glycol, which has been linked to liver and kidney damage as well as respiratory problems.
In addition, colorants used in lipstick often contain lead. According to a 2007 study done by the Campaign for Safe Cosmetics, half of conventional brands of lipstick contain detectable levels of lead and "one-third of those tested above the level set by the FDA for lead in candy." Lead has been linked to health issues from menstrual irregularities to behavioral problems.
Other people simply want to create their own perfect lipstick or face powder. To get started, try these simple recipes.
Sheer blush
2/8 a teaspoon of your preferred rose- or red-colored mica
1/8 a teaspoon of a neutral color such as beige
1/16 teaspoon of light blue mica for a light blush/deep red mica for a darker blush
Place ingredients in small bowl, and mix thoroughly with a wooden spoon so there are no lumps of color. Place the ½ teaspoon worth of makeup into a small glass jar. To use, dip a blush brush into the powder and brush evenly on cheeks.
Peppermint lip balm
6 teaspoons cocoa butter
2 drops peppermint essential oil
½ drop of neroli essential oil
½ tablespoon sweet almond oil
a big pinch of fine pearlescent mica (optional for glitter effect)
Using a double broiler, melt the cocoa butter in a double boiler. Scatter the pearlescent mica into the almond oil. Remove cocoa butter from the heat, and mix in the sweet almond oil. Add the essential oils and stir to combine. Pour the half-ounce worth of balm into a small glad jar. Cool before using.
Additional, more involved recipes are available: http://www.makingcosmetics.com/recipes-6.html
Category:
Special Section – Health and Wellness
News Image: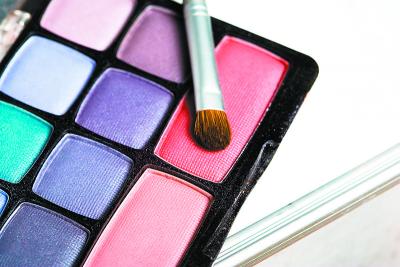 Category Lead:
Category Secondary Featured Story

Print This Post