By Jamie Folsom
Berthoud Recorder

The big question at the April 23rd Berthoud Area Chamber of Commerce luncheon was "What can Berthoud do to attract new businesses?" Guest speaker Maury Dobbie's answer was quite simple: "Incentives."

"Prospective businesses want two things — free land and free facilities — but what you can really offer is abatement of taxes and money for training," she said.

Dobbie is the Chief Executive Officer of the Northern Colorado Economic Development Corporation. The NCEDC focuses on bringing in and keeping primary jobs. Dobbie offered her best advice on Berthoud's persistent problem of business growth by looking at current trends: shorter lead times for interested businesses; slower to commit to a move; they need "shovel-ready" sites; they need incentives on taxes and training.
Although incentives work to attract companies, the benefits are not long-lasting, Dobbie notes. Businesses want to see things that help them maintain their workforce, such as colleges, and access to transportation for products. She also says companies do not care about particular county or town lines, but look for state and regional benefits.

But by far the most important trend that affects Berthoud's dilemma is the need for a healthy business climate. Dobbie emphasized, "No one will be attracted to this region if others see it as divisive."
Category:
News – Business
News Image: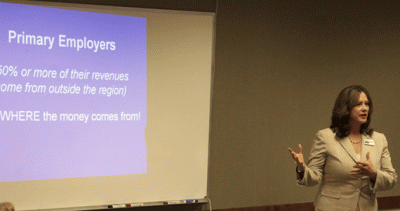 Long Description:
<p>Maury Dobbie, CEO of the Northern Colorado Economic Development Corporation</p>
Category Lead:
Category Lead Story

Print This Post