Felony Eluding
Date: May 10, 2011
Early this morning a Larimer County Sheriff's Office deputy observed a vehicle that was speeding westbound on Mulberry Street near 12th Street.  As the deputy turned his patrol vehicle around, the vehicle continued speeding on Mulberry and ran a red light.  As the deputy attempted to catch up with the vehicle it turned north on College Avenue.  The deputy finally caught up to the speeding vehicle as it turned east onto Mountain Avenue.
As the deputy turned on his overhead emergency lights to stop the vehicle at 1:21 a.m, the vehicle refused to stop.  A short pursuit ensued southbound on Peterson Avenue with speeds exceeding 60 miles per hour.  After less than a minute and a half, the deputy discontinued the pursuit in order to ensure the safety of other vehicles and pedestrians in the area.  A BOLO (Be on the Lookout) was immediately sent to other area law enforcement agencies with the vehicle description.
A few minutes later, Fort Collins Police Services officers followed a trail of leaking fluid and discovered the car near College Avenue and Elizabeth Street with two males running from the vehicle north on College Avenue.  A perimeter was immediately established by Fort Collins Police Services, the Larimer County Sheriff's Office and the Colorado State University Police Department to contain the suspects.
A short time later, Fort Collins Police Services caught up with the passenger of the vehicle, a 17-year old Fort Collins juvenile, and took him into custody.  It was later learned that the juvenile had four warrants for his arrest and had been listed as missing and on the run for several months.  He was taken to Platte Valley Youth Services Center in Greeley.
The driver of the vehicle was arrested by CSU Police approximately 10 minutes later.  He was identified as Michael Stanley-Worosello, DOB: 100985, a transient from Pueblo.  Mr. Stanley-Worosello was arrested for:
18-09-0116.5  Vehicular Eluding                               Class 4 Felony
18-08-0104     Obstructing a Peace Officer                Class 2 Misdemeanor
42-04-1401     Reckless Driving                                 Class 2 Traffic
42-04-1409     Compulsory Insurance Violation        Class 1 Traffic
42-04-1101     Speeding                                             Class A Traffic
42-04-0603     Traffic Control Devices Violation       Class A Traffic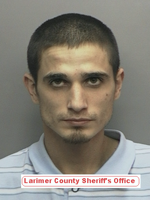 [1]Stanley-Worosello was booked into the Larimer County Jail and is currently awaiting a court hearing to set bond.
Captain John Manago of the Larimer County Sheriff's Office Patrol Division said, "Once again this displays another great case of teamwork. We are very fortunate to have agencies around us who are so willing to help us when we need them. Again, I am proud of our deputies' decision making process when it comes to these pursuits. I can see that they are truly evaluating the safety of the community with the need to catch the suspect."
The charge(s) are merely an accusation and the defendant is presumed innocent until and unless proven guilty.
Anyone with information regarding this or any other crime is asked to call Larimer County Sheriff's Office at 970-416-1985 or Crime Stoppers at 970-221-6868 where you will remain anonymous and possibly be eligible for a cash reward.