Date:  4/12/2012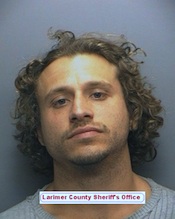 Larimer County Sheriff's Office investigators arrested Ryan Conrad-Davis, DOB: 051085, of Fort Collins last night (041112) on charges of cultivating, possessing and distributing marijuana, all felonies. Conrad-Davis was also charged as a special offender as his sole source of income was from the drug operation.  The arrest took place at 705 South Taft Hill Road.
Larimer County investigators were informed about the grow operation by Georgia law enforcement officials who believe that Conrad-Davis moved to Colorado specifically to operate a grow facility and mail the marijuana back to Georgia for sale.
Investigators seized 25 live plants, several ounces of processed marijuana, a small quantity of psilocybin mushrooms as well as distribution paraphernalia like a digital scale, baggies, etc.
Conrad-Davis was arrested without incident and booked into the Larimer County Jail where he is being held pending a court hearing to determine his bond.
The investigation is ongoing to determine if other arrests are warranted.
The charge(s) are merely an accusation and the defendant is presumed innocent until and unless proven guilty.

Print This Post