Markey cites small business background, common-sense approach to lawmaking
WASHINGTON—Congresswoman Betsy Markey was honored today by the United States Chamber of Commerce, winning their annual Spirit of Enterprise Award for her support of pro-business and pro-growth legislation in Congress.
"I came to Congress not as a politician, but as a small business owner working to solve problems," said Rep. Markey. "We need fewer career politicians in Washington and more people who have created jobs, watched the bottom line, and contributed to our local economies. I'm proud to fight for Colorado's small businesses and proud to accept this award."
"The Chamber applauds Representative Markey for supporting the private sector and job growth through these difficult times," said Tom Donohue, president and CEO of the U.S. Chamber. "She has demonstrated great courage and we commend her. The business community depends on solid partnerships on Capitol Hill to help grow the economy and create new jobs for hardworking Americans. This award recognizes those lawmakers who have demonstrated leadership on important business issues."
Eligibility for the award is based on how Members of Congress vote on key business issues, which the Chamber outlines in its annual publication How They Voted .
Rep. Markey is one of just 20 Democratic members of Congress to win the Spirit of Enterprise award.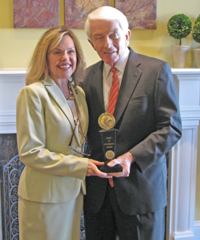 Rep. Markey and Chamber President Tom Donohue.

Print This Post