By Laurie Hindman
Berthoud Recorder
Berthoud is lucky to be home to an old fashioned drive-up diner; A&W offers traditional burgers, hotdogs, onion rings, shakes and fries that you can have delivered to your car. Or, you can go inside, plunk a few quarters in the jukebox, slide into an orange booth and enjoy an Coney dog and root beer. A&W is currently offering the $4 combo: a Johnsonville hotdog, onion rings and a drink; a small float right now is going for just 99 cents — that's a sweet bargain!

Every Tuesday is "Coney Tuesday" when two hot dogs will cost you just $1.99. A&W also offers BBQ, fish sandwiches, chicken sandwiches, served grilled or breaded or topped with mushrooms and onions, and pork tenderloin. Milkshakes are cold and creamy (made in a real shake machine), and the A&W root beer is not to be beat — it is made fresh every morning in the restaurant. You can buy root beer by the mugful or take home a half-gallon or gallon jug.

Taking the kids to A&W drive-up is more than just a hearty meal that's inexpensive and fast — it is an American tradition. And while they don't roll up to your car on skates, service is fast and friendly.
Category:
News – Business
News Image: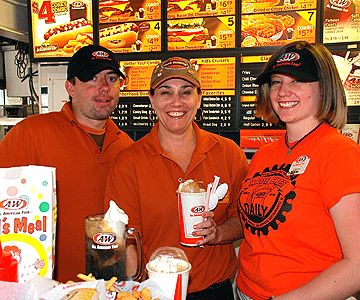 Long Description:
<p>A&amp;W manager Shane Bissell with Judi Hamman and Jessica Call.</p>
Category Lead:
Category Secondary Featured Story

Print This Post