By Laurie Hindman
Berthoud Recorder
Being tucked away in a row of offices on First Street at the east edge of town, The Derby Grille, owned and operated by Jennifer and Michael Sommers, may fly under the radar but it is well worth a visit if you crave juicy, grilled burgers requiring at least three napkins.

The Derby features excellent standard bar fare, such as burgers, onion rings and potato skins, but also offers shrimp, Mexican dishes and specialty sandwiches including a "Derby Dip" — roast beef piled with mushrooms, bacon and pepper jack cheese or the BBQ chicken burger, topped with crispy onion straws. Most sandwiches and burgers are under $7, come with coleslaw and fries or potato chips and are easily large enough to share.
In addition, there are daily specials for pork tenderloin, Italian sausage or Philly steak sandwiches. Perhaps the best deal is a quarter-pound grilled burger on Thursdays for only $2.99 (add French fries for only a dollar more). On Fridays, the Derby is known for their fish fry — cod is served all day with fried walleye starting after four.
"It's great fish," said Jennifer Sommers. "Hand dipped in a beer-batter mix." Sommers is the also the genius behind the delicious soups, such as Dilly Parmesan Tomato and Potato Asparagus, created each day. "They're pretty darned good, if I do say so myself," she noted.

The Derby is open seven days a week, serving lunch and dinner from 11 a.m. to 9 p.m., Monday through Friday and offers a full breakfast on Saturdays and Sundays with food service starting at 9 a.m.
Category:
News – Business
News Image: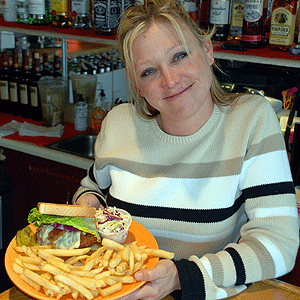 Long Description:
<p><span style="font-size: small;"><span style="font-family: arial,helvetica,sans-serif;">Waitress Lexi DiPentino holds a plate with a crispy chicken sandwich on Texas toast, topped with Swiss cheese and bacon; on the side, coleslaw and fries. This filling meal is offered daily for $6.49.</span></span></p>
Category Lead:
Category Secondary Featured Story

Print This Post