By Laurie Hindman
Berthoud Recorder
The Light House Café, located inside Grace Place church at 250 Mountain Ave., has become one of the hottest breakfast/lunch spots in town. Open Monday through Friday, 7:30 a.m. to 2 p.m., and Sundays, 8 a.m. to 1 p.m., the Light House is a part of the church and therefore a non-profit, however, it does pay sales tax to the Town of Berthoud and all of its employees are Berthoud residents.
The Light House offers a full breakfast menu including an espresso bar, with all the specialty coffee drinks you could want, French toast, pancakes (both blueberry and buttermilk), biscuits and gravy, eggs any way you want them and much more, with no breakfast item over $4.70.
The lunch menu has daily soup specials, healthy, creative salads, burgers, wraps and sandwiches. Try the "Black & Blue" burger grilled with black pepper and crumbled blue cheese or the "Downtown Turkey" sandwich — thinly sliced turkey breast topped with bacon and swiss cheese, sliced avocado and thyme mayo on a toasted croissant.
Wraps include the yummy "Taos Chicken" — spicy chipotle chicken with black beans and corn, wrapped in a warm garlic herb tortilla and topped with chipotle ranch dressing as well as the southwest roast beef — sautéed strips of thinly sliced roast beef, smothered with roasted mixed bell peppers and onions, wrapped up in a warm garlic, herb tortilla with chipotle mayo, Colby-jack cheese and mixed greens. All burgers and sandwiches are served with their famous seasoned fries or homemade potato chips. For just 80 cents more add a cup of soup or chili.
Perhaps the best lunch deal is on "Slider Wednesday" with three 2-ounce burgers, seasoned fries and a fountain drink for just $5. "It is our most popular special," said manager Tiffany Degnan.
Degnan has been manager since the restaurant opened seven years ago. She said people are still discovering the Light House. "They come in all the time and go, 'I didn't know your were here!" She said most of their customers come from the local community and businesses. "Word has really gotten out," added Degnan. "We serve fresh, good quality food for a good value."
News Image: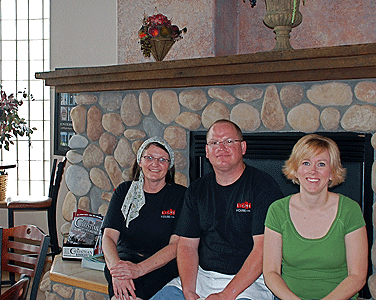 Long Description:
<p><span style="font-size: small;"><span style="font-family: arial,helvetica,sans-serif;">Employees LuAnn Hoxeng, Hollis Hunt and manager Tiffany Degnan sit on the bench in the warm and friendly Light House Caf&eacute;.</span></span></p>
Category Lead:
Category Primary Featured Story

Print This Post